Title
Luminary Steven R. Little, PhD
LUMINARY STEVEN R. LITTLE, PHD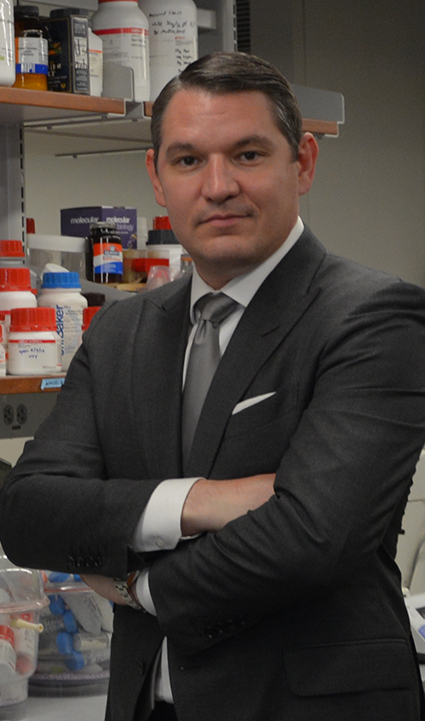 At the University of Pittsburgh, Dr. Steven Little is the Chairman of the Department of Chemical and Petroleum Engineering and is the William Kepler Whiteford Endowed Professor in the Departments of Chemical and Petroleum Engineering, Bioengineering, Immunology, and Ophthalmology. Dr. Little joined the McGowan Institute in 2006 after receiving his PhD from the Massachusetts Institute of Technology.
Researchers in Dr. Little's Lab focus upon therapies that are biomimetic in that they replicate the biological function and interactions of living entities using synthetic systems. The areas of study include bioengineering, chemistry, chemical engineering, ophthalmology, and immunology. The health issues addressed include autoimmune disease, battlefield wounds, cancer, HIV, ocular diseases, and transplantation. Some of the ongoing research projects in the lab include: Mimicking Biological Structure and Behavior Using Polymeric Release Systems and Carbon Nanotubes, Treatments for Periodontitis that Restore Immunological Homeostasis, Sequential Delivery of Growth Factors for Regeneration of Tissues, and Thermo-gelling Eye Drops for the Delivery of Ophthalmic Therapies. Dr. Little currently has 10 provisional, 2 pending, and 5 issued patents.
Since joining the McGowan Institute, Dr. Little has received numerous awards. Most recently he was named one of five Pittsburgh "Disruptors" who are "Shaking Up the Status Quo and Reshaping Our World" by Pop City Pittsburgh (2014), the Innovative Ophthalmic Research Award - Research to Prevent Blindness (RPB) (2014), and the Carnegie Science Award (University Educator) (2013). Dr. Little is also one of the individuals named by the Camille and Henry Dreyfus Foundation as a Dreyfus Teacher-Scholar. He is also the only individual from the School of Engineering to ever win both the Chancellor's Distinguished Research Award (2012) and the Chancellor's Distinguished Teaching Award (2013). In 2008, Dr. Little was named a Young Investigator by the Arnold and Mabel Beckman Foundation for his innovative research.
Dr. Little is also a Co-Founder for Qrono Inc., a Pittsburgh-based biotech start-up company that custom designs controlled release formulations in silico for pharmaceutical companies, academic laboratories, and agricultural companies.
What sparked your interest in science in general and drug delivery in particular?
These are indeed two very different questions, but they are related to one another in a rather odd way. 
My original interest in science actually came from looking at the stars.  I grew up in a very rural area where the night sky was probably the most impressive thing that I saw in my daily life.  I was captivated with imagining the impossibly large scale of the universe, and also enjoyed imagining how things behaved on such a large scale.  It seemed like a natural career choice for me to become an astrophysicist. 
As a result of several life circumstances, as well as the discovery of a natural talent of mine in the area of chemistry, I actually ended up switching my major to chemical engineering in college.  Interestingly enough (at least to me), I became just as captivated by imagining what seemed to be the impossibly small scale of atoms, chemical reactions, and biological phenomena, and also enjoyed imagining how things behaved on such a small scale. 
I was almost uniformly interested in the various sub-fields of chemical engineering, but that changed the day that I met Robert Langer at MIT.  With his characteristic energy and charisma, Langer convinced me that I could make an impact on the future of medicine through the field of controlled release and drug delivery.  It was one of the best decisions of my career to choose him as a mentor and to work in the field of drug delivery.  It is now my privledge and distinct honor of inspiring and training the next generation of leaders who will impact the field of medicine.
Share a turning point or defining moment you experienced in your work as a scientist.
Although this may sound odd at first, one of the defining moments of my education and career was a course that I took in college called "History of Mathematics."  At the time, I needed an elective, and this one seemed interesting enough (and easy enough) to fill that elective credit.  I remember that course fundamentally changing the way that I think, by making me realize that even the format of the mathematics that we use today (like the base 10 number system) was only ONE way of thinking about math (some historical cultures didn't even use the same mathematical systems that we use today).  It made me begin to question the basis of almost everything that I just assumed to be true up to that point in my life.  I'm not sure that I would have even thought of some of the bases of several of our inventions without this defining moment in my education.
Tell us about the exciting ways in which your particular field is progressing.
I believe that we are currently going through a paradigm shift in the field of controlled release and drug delivery.  Traditionally, the field was oriented toward producing sustained concentrations of drugs in the bloodstream or a given tissue in the body so as to resolve patient compliance issues as well as to minimize complications related to periodic daily dosing of drugs.  Over the last several years, we have started to see examples of drug delivery systems themselves actually mimicking natural tissue and cells by serving as a point-source for orienting the presentation and release of biological signals.  Indeed, the body uses not only a signal itself (like a protein), but also the way that this signal is oriented or presented in context to make up the overall "message".  In other words, the protein is just one part of a very complex message (like a verb in a sentence, or a sentence in a paragraph).  Next generation drug delivery systems will continue to get better and better at replicating this naturally-conserved, context-rich communication.  As it stands today, some of the systems that researchers in my group have designed are now capable of reducing the amount of "drug" necessary from the tens-of-milligrams/kilogram required with traditional medicine down to picograms-to-nanograms/kilogram…all by presenting this signal in the biological context that the body understands.
What is the best piece of professional advice you have received and from whom?
When I was an Assistant Professor, I was asked to take on a number of rather intimidating responsibilities including becoming a Chair of an academic department and serving on the Board of Directors of an international society.  At the time, a number of people told me that it was too much for me to do at such a young age, and that I needed to be careful taking on so much responsibility so soon.  I vividly remember a conversation with Professor Nicholas Peppas, who told me that I should never allow someone else to impose their own limitations on what they felt that I was able to accomplish.  Although I still listen to advice from my colleagues, and I still set healthy boundaries for what responsibilities I take on, I am very careful to not allow others to convince me that I cannot lead, achieve, and exceed expectations if I believe that I can.
Would you change anything about your career path if you could start over?
No, I would not.  My own experience is such that even the things that many would consider as "setbacks" or "hard times" ended up forming me into who I have become today.  I wouldn't change them, because they have made me who I am today.
What advice would you give to someone who is starting their scientific career?
Do what you do because you are passionate about it, not to impress other people or to because someone has told you that you should do it.  A fulfilling career is one where you wake up and are excited to learn, grow, teach, mentor, and make an impact on the world in your chosen area.  Your passion will be infectious, and others that you encounter will see it as inspiration, ultimately allowing you to have a bigger impact than you could have imagined.
What do you enjoy doing outside of the lab? What are your hobbies/interests?
I was a collegiate tennis player and even a teaching pro in my teenage years.  I still enjoy the exercise and competition of that tennis provides to me, and I try my best to play weekly.  I also have three children, Aaron (14), Drew (11), and Kate (6) and I love spending time with them and my most valued collaborator and partner in life, my wife Heather.