About CRS
CRS is the home for experts dedicated to delivery science, including delivery scientists, engineers, clinicians, and technical professionals. CRS members are creating the future of delivery science and technology through fundamental delivery research, development, regulatory science, and clinical translation. Research published in CRS journals and presented during the Annual Meeting & Exposition offers a breadth of scientific knowledge covering new technologies and science in the multi-disciplinary delivery field.
New This Month
CRS 2022 Award Nominations - OPEN! 
---
CRS 2022 Board of Directors Nominations - OPEN!
---
CRS Pediatric Meeting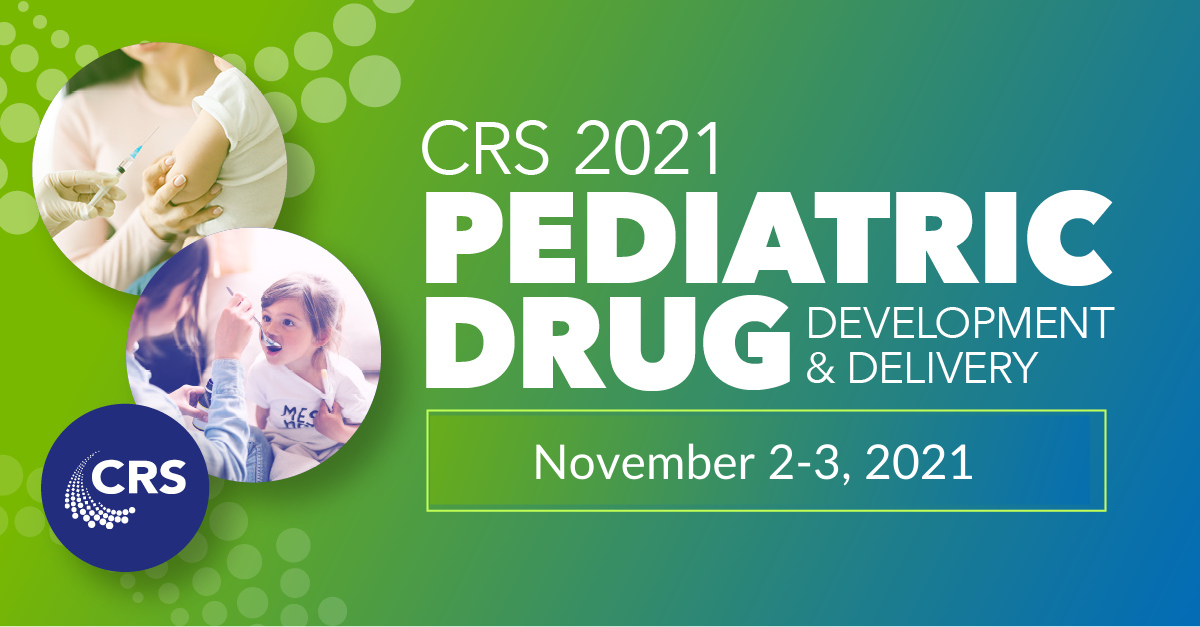 ---
Join the CRS Career Center!
Look for your next candidate or opportunity!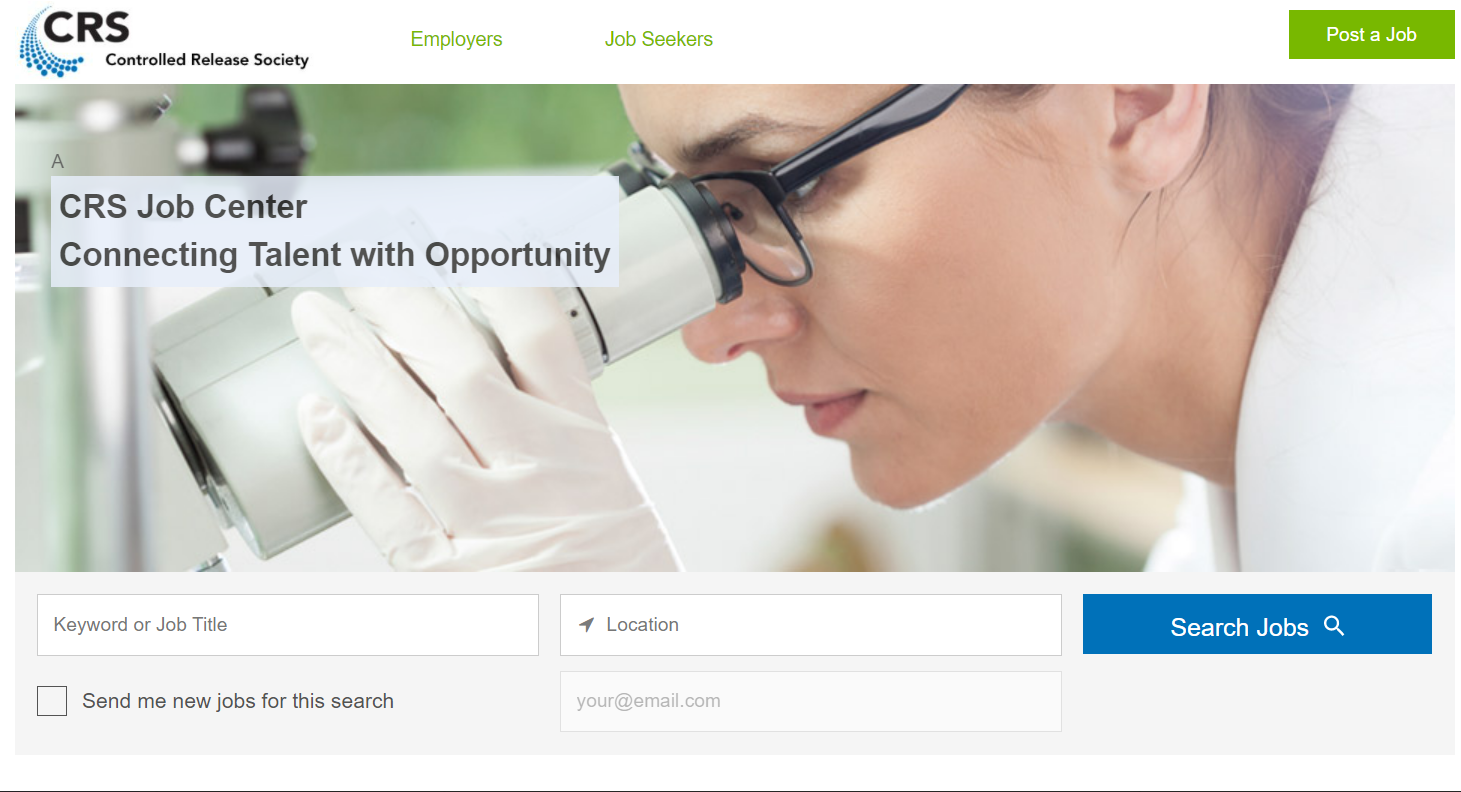 CRS 2021 Annual Meeting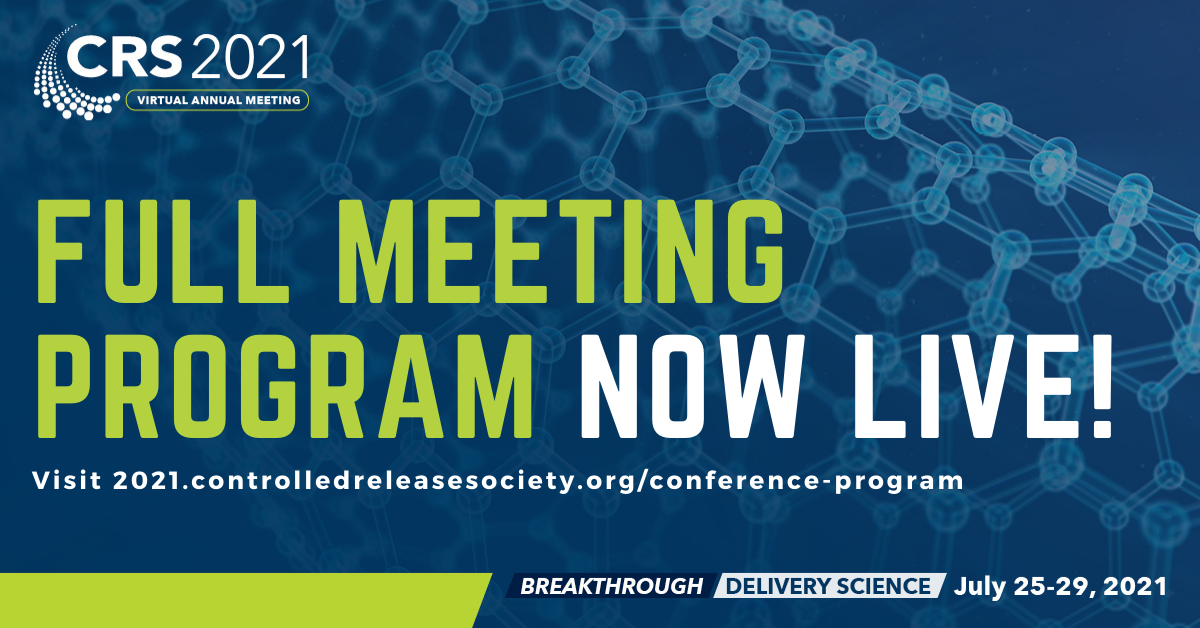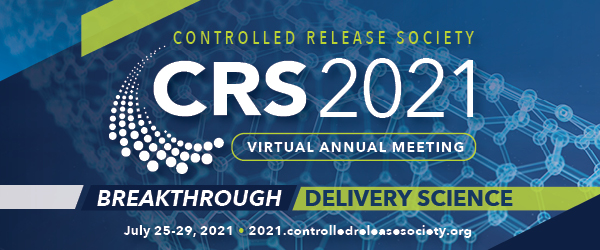 July 25-29, 2021
Drug Delivery and Translational Research (DDTR)
DDTR Video
Prof. Ben Boyd, incoming President of the CRS and Editor of DDTR, talks about his experience with the DDTR, an official journal of the CRS.
Inspirational Note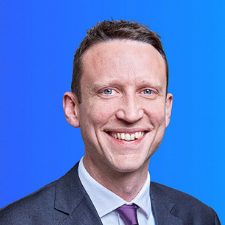 Inspirational note by Dr. Andrew L. Lewis
Development and approval of rybelsus (oral semaglutide): ushering in a new era in peptide delivery
In this Inspirational Note, Dr. Andrew Lewis and coauthors feature an amazing and innovative discovery that is changing the paradigm of oral peptide delivery.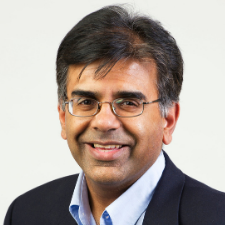 Inspirational note by Drs. Lara Milane and Mansoor Amiji
Clinical approval of nanotechnology-based SARS-CoV-2 mRNA vaccines: impact on translational nanomedicine
In this Inspirational Note, Drs. Lara Milane and Mansoor Amiji share their insights and reflections on the impact of the recently approved SARS-CoV-2 mRNA vaccines on the present and future of translational nanomedicines.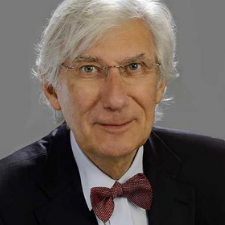 Inspirational note by Alexander (Sandy) T. Florence  Trajectories in nanotechnology: embracing complexity, seeking analogies
"A timely and truly insightful Inspirational Note by one of the fathers of nanotechnology & pharmaceuticals."  -Jung Soo Suk, Ph.D., Assistant Professor, The Center for Nanomedicine at the Wilmer Eye Institute, Johns Hopkins University School of Medicine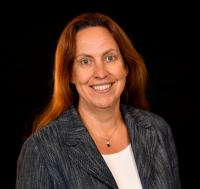 Inspirational Note from Dr. Marianne Ashford, Senior Principal Scientist in Glocal Advanced Drug Delivery Group in Pharmaceutical Sciences at AstraZeneca "Drug delivery - the increasing momentum"  
"In this 'Inspirational Note' you will be inspired by the way industry sees advances in drug delivery and Nanomedicine. Dr. Marianne Ashford talks about the 'increasing momentum'. You should not miss this note if you are interested in translational research." -Prof. Maria José Alonso, Editor-in-Chief of the Drug Delivery and Translational Research (DDTR) Journal, Past President of the Controlled Release Society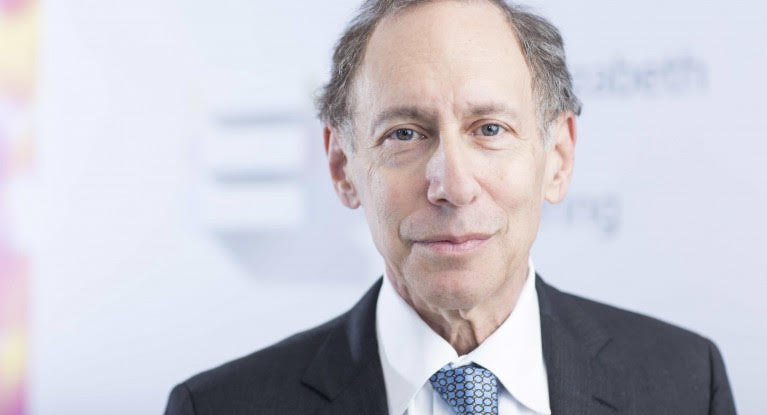 Inspirational Note from Dr. Robert Langer
"From micro to nano: evolution and impact of drug delivery in treating disease"
In this Inspirational Note, Robert Langer and Jeff Hrkach highlight the technological evolution of drug delivery from micro to nano, providing examples of clinically approved medicines that demonstrate the significant impact of the drug delivery field on treating many diseases.
---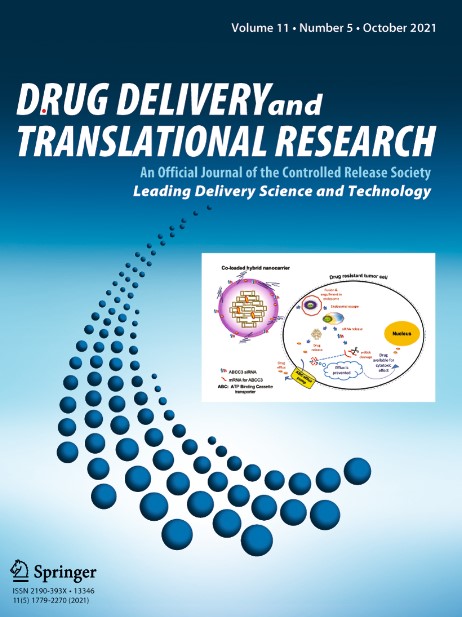 Best Paper of the October 2021 Issue of DDTR:
Summary: In current investigation, combinatorial delivery of anti-neoplastic drug and siRNA was achieved to enhance the effectiveness of cisplatin in A549 lung cancer cell line. The formulated co-loaded nanocarriers imparted stability to the siRNA in presence of serum and delivered the payload efficiently inside the cells as evident from the transfection efficiency study besides showing improvement in loading efficiency of the drug as well as cytotoxicity as compared to the free drug. Delivery of ABCC3 siRNA complexed HNCs for ABCC3 protein exerted knock-down of expression leading to sensitization of cancer cells to cisplatin. A significant reduction in tumor growth along with superior pharmacokinetics profile was observed with the formulation. Thus, this approach has potential for effective management of cancer using genomic approach with improved therapeutic index and could be able to reduce dose dependent toxicity of the cisplatin.
---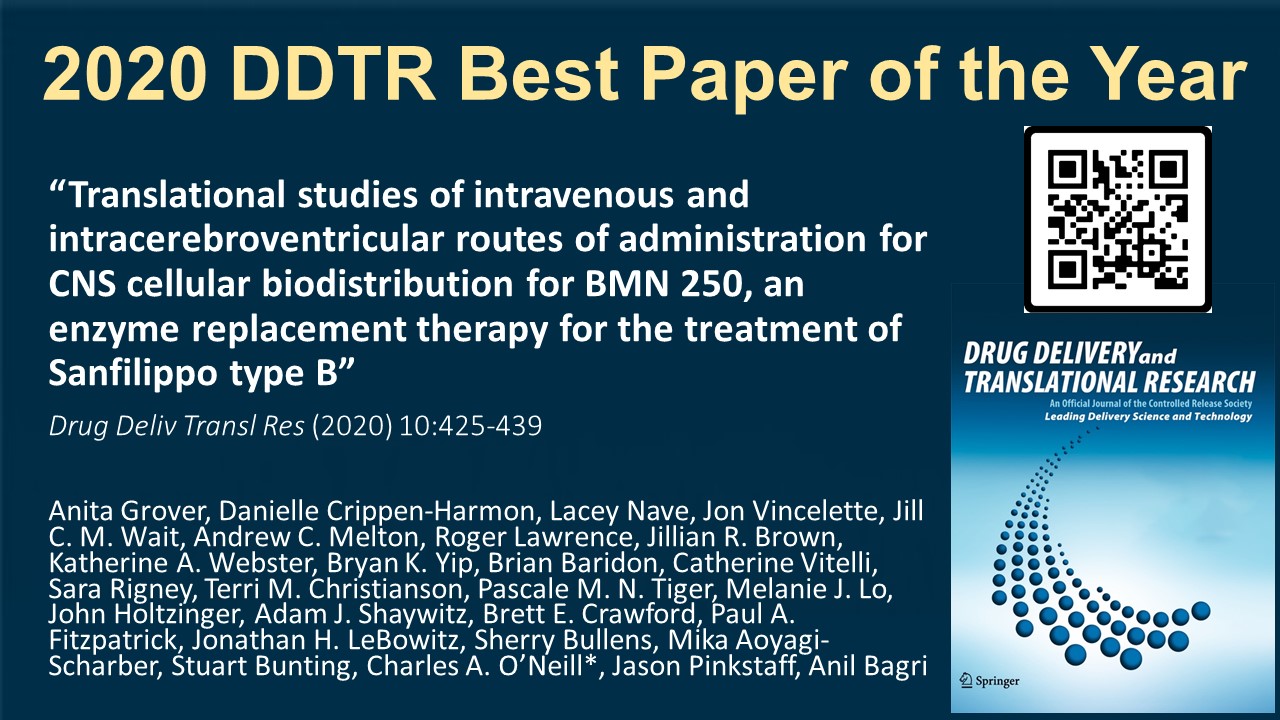 2020 DDTR Best Paper of the Year: Translational studies of intravenous and intracerebroventricular routes of administration for CNS cellular biodistribution for BMN 250, an enzyme replacement therapy for the treatment of Sanfilippo type B.
2019 DDTR Best Paper of the Year: Depletion of collagen by losartan to improve tumor accumulation and therapeutic efficacy of photodynamic nanoplatforms
The Best Paper is chosen by the DDTR Editorial Board.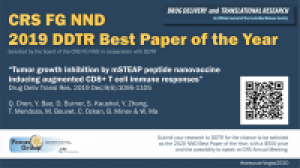 2019 CRS Nanomedicine and Nanoscale Delivery (NND) Best Paper of the Year: Tumor growth inhibition by mSTEAP peptide nanovaccine inducing augmented CD8+ T cell immune responses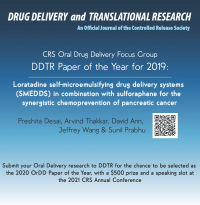 2019 DDTR CRS Oral Drug Delivery Focus Group Paper of the Year Award: Loratadine self-microemulsifying drug delivery systems (SMEDDS) in combination with sulforaphane for the synergistic chemoprevention of pancreatic cancer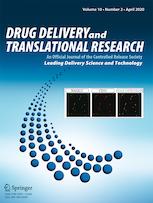 Drug Delivery and Translational Research is a journal published by CRS, providing a unique forum for the scientific publication of high-quality research that is exclusively focused on translational aspects of drug delivery. The journal is published 6 times a year and will be available online to CRS members as part of their annual dues.
Drug Delivery and Translational Research Editors
Drug Delivery and Translational Research Editorial Board
Women In Science
Celebrate International Day of Women and Girls in Science 2021 by watching an update from CRS WIS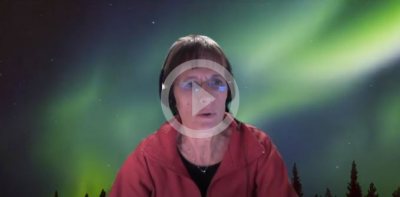 ---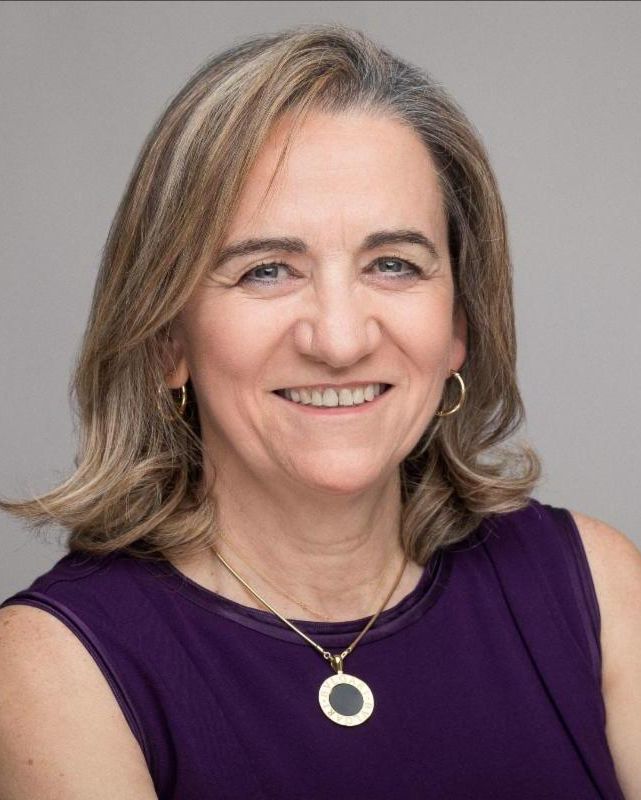 Annual Meeting Women In Science Keynote 
The CRS WIS ran two very successful sessions during the virtual CRS2020 Annual Meeting. Prof. Alonso delivered a very inspirational talk about her career in science that prompted a lively Q&A session where participants could ask their questions live, triggering a collegial and warm atmosphere. We are super proud to announce that this year we had over 150 participants of different nationalities and seniorities, of which a fair amount were men, which we warmly welcome. This allowed a virtual mingling with women CRS past presidents, past Women in Science Award Winners, and peers.
Thank you all for making these sessions an outstanding success and especially thanks to Prof. Alonso for willingly sharing her legacy in science and her path to get there. We are looking forward to welcoming your ideas and experiences and to keep us all engaged. Please contact Ruth Schmid with any questions. We also hope to see you face-to-face in Montreal in 2021!