Special Pricing Offer for CRS Members
CRS members qualify for a 25% discount on all books in the Advances in Delivery Science and Technology series from CRS, along with all Springer book titles if you purchase through Springer's online site and use the exclusive CRS member discount token when ordering. CRS members must sign in to the CRS site to gain access to the discount token before ordering at the Springer site. 
Non-Member Orders
To order and pay Springer's published price, please visit the Springer website.
---
Titles in the Advances in Delivery Science and Technology series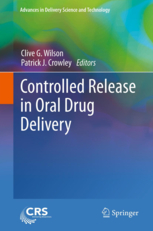 Controlled Release in Oral Drug Delivery delves into the subject matter and its challenges with great detail. Authors have been drawn from academia, providers of excipients and from those designing controlled release systems in industrial R&D and manufacture. The contents provide a unique blend of cutting edge knowledge, data on materials and practical experiences. It is essential text for students, researchers and industrial engineering, formulation and manufacturing technologists as well as quality testing and control functions.
Controlling the rate, extent and time of a drug's delivery can optimize its performance in many ways, relative to "immediate release" delivery. Such optimized design requires a broad knowledge base of topics such as gastro intestinal tract physiology, polymer science, and the mechanisms by which drugs are released from the formulated units. Technologies to "reduce to practice" also need to be carefully considered. Such knowledge must be allied to the physico chemical properties of the drug, its pharmacokinetic behaviors, enzyme susceptibility and other factors that can affect absorption or timecourse in the biosystem.
Wilson, Clive G.; Crowley, Patrick J. (Eds.)
2011, XIII, 412 p. 142 illus., 63 in color.
Hardcover, ISBN 978-1-4614-1003-4
Order Today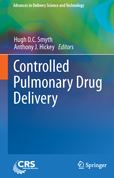 Controlled Pulmonary Drug Delivery is the first book in the CRS "Advances in Delivery Science and Technology" Series. This book is published in partnership with Springer and was released in July 2011. This distinctive text provides a toolbox for pharmaceutical scientists and those involved in product development utilizing pulmonary drug delivery systems. Uniquely focusing on aspects of control, both temporal and spatial, the text collects a broad range of interlinked chapters that provide both theoretical and practical insight.
This volume will be of interest to scientists and engineers developing pulmonary drug delivery systems. The unique themes of controlled release science and technology that run through the book ensure that experienced and newcomers will greatly benefit from this book. As the importance for control over therapeutic performance is better recognized and demanded, this text will be essential for those delivering bioactives to the lung.
Smyth, Hugh D.C.; Hickey, Anthony J. (Eds.)
1st Edition, 2011, XIII, 557 p.
Hardcover, ISBN 978-1-4419-9744-9
Order Today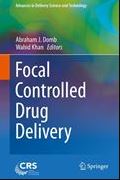 Focal Controlled Drug Delivery includes fundamental introductory chapters for focal drug delivery Describes drug delivery to body sites/system Provides an authoritative account of the essential pharmaceutical, technological, physiological and biological sciences.
The concept of Focal Drug Delivery has been applied for treating illnesses that are localized to a certain tissue or organ. These delivery systems are applied directly to the diseased site and deliver a desired dose for an extended time period while minimizing systemic distribution of toxic drug. Despite the upsurge of interest in focal targeted drug delivery, there is currently no single reference text on this subject. Thus, the aim of the proposed book "Focal Controlled Drug Delivery" is to bring together leading experts and researchers in this field to provide an authoritative account of the essential pharmaceutical, technological, physiological and biological sciences underpinning the topic. This book contains two sections- first section includes fundamental introductory chapters for focal drug delivery whereas, second section includes chapters describing drug delivery to body sites/system. The book allows clinical, pharmaceutical and biological scientists to offer their own perspectives on the subject, making it of potential interest to a wider audience than just drug delivery scientists.
Edited by A.J. Domb; W. Khan (Eds.)
2014, XVII, 700 p. 100 illus., 75 illus. in color.
Hardcover, ISBN 978-1-4614-9433-1
Order Today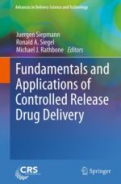 Fundamentals and Applications of Controlled Release Drug Delivery covers the fundamentals relating to the science and technology of drug delivery. The book is written at a level that is understandable to those entering the field and who are not familiar with its common phrases or complex terms. It is a book that provides a simple encapsulation of concepts and expands on them using a building block approach to each subject, starting at a basic level and building to extend the readers knowledge and application of the subject. In each chapter the basic concept is explained as simply and clearly as possible without a great deal of detail, then in subsequent sections additional material is introduced in order to build up the reader's understanding and comprehension of the subject matter.
This book will be indispensable to scientists interested in the science and technology of drug delivery and be essential for those developing delivery systems designed to improve the clinical performance of a drug.
Siepmann, Juergen; Siegel, Ronald A.; Rathbone, Michael J. (Eds.)
1st Edition, 2012, XIII, 592 p.
Hardcover, ISBN 978-1-4614-0880-2
Order Today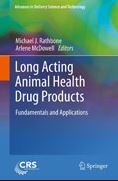 Long Acting Animal Health Drug Products is the comprehensive guide on the theories, applications, and challenges associated with the design and development of long acting veterinary formulations. The volume acts as a reference to the animal health formulation scientist and contains chapters written by some of the leading experts in the field. In addition it offers additional details through a mixture of figures, tables, and references to provide information not found in other similar texts.
The book covers everything a student or a formulation scientist in industry or academia needs to know about this unique drug delivery field. It provides an overview of the fundamental science necessary for the rational design and development of veterinary animal health products, and provides in-depth descriptions of the technologies that are currently commercially available for the prolonged delivery of drugs to animals.
McDowell, Arlene; Rathbone, Michael J. (Eds.)
1st Edition, 2013, XII, 406 p.
Hardcover, ISBN 978-1-4614-4438-1
Order Today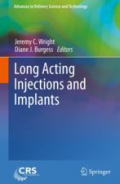 Long Acting Injections and Implants includes the historical development of the field, drugs, diseases and clinical applications for long acting injections and implants, anatomy and physiology for these systems, specific injectable technologies (including lipophilic solutions, aqueous suspensions, microspheres, liposomes, in situ forming depots and self-assembling lipid formulations), specific implantable technologies (including osmotic implants, drug eluting stents and microfabricated systems), peptide, protein and vaccine delivery, sterilization, drug release testing and regulatory aspects of long acting injections and implants.
This volume provides essential information for experienced development professionals but was also written to be useful for scientists just beginning work in the field and for others who need an understanding of long acting injections and implants. This book will also be ideal as a graduate textbook.
Wright, Jeremy C.; Burgess, Diane J. (Eds.)
1st Edition, 2012, XV, 557 p.
Hardcover, ISBN 978-1-4614-0553-5
Order Today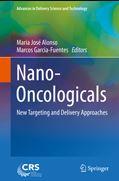 Nano-Oncologicals: New Targeting and Delivery Approaches focuses on emerging technologies in cancer nanomedicine, characterized by their multi-functionality and potential to address simultaneously diverse issues of clinical relevance in the treatment of cancer. It is an important resource for scientists interested in the design and development of anticancer nanotechnologies and also to those aiming to push their technology through clinical development.
The volume begins with an introduction describing the biological barriers associated with cancer therapy and highlighting ways to overcome such barriers through the use of nanotechnology. This is followed by an analysis of the two major targeting strategies currently under investigation in cancer therapy: namely, the targeting of cancer cells and the targeting of the immune system. Beyond these targeting options, this book presents the most recent technological advances in the area of nucleic acid-based therapies, along with those in the area of theranostics, where the design of multifunctional nanocarriers becomes vital. The book concludes with an overview of regulatory and toxicological issues, which are critical in their translational pathway, and the presentation of a nucleic acid-based therapy case-study.
Alonso, María José, Garcia-Fuentes, Marcos (Eds.)
1st Edition, 2014, XIV, 473 p.
Hardcover, ISBN 978-3-319-08083-3
Order Today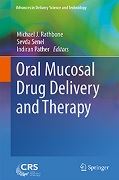 Oral Mucosal Drug Delivery and Therapy provides a comprehensive overview of the current issues facing scientists working on delivering drugs locally and systemically via the membranes that line the mouth. The book describes the anatomical and physiological challenges of this route for drug delivery and how they impact the design of oral mucosal drug delivery systems. It also provides a detailed description of current oral mucosal drug delivery technologies that overcome these challenges alongside research, development and assessment methods.
In 11 authoritative chapters, the book affords an in-depth evaluation of the major issues associated with this route of administration, namely the retention of the drug/product at the site of administration and increasing drug permeability through the oral mucosa. The book provides insights into the in vitro and in vivo methods available to assess drug permeability and retention, offers solutions on how to improve the permeation of the drugs through the oral mucosa, and explores approaches to prolong drug/product retention at the site of administration. It also indicates future directions in research and product development. Oral Mucosal Drug Delivery and Therapy is a key resource for those wishing to extend their knowledge of this field.
M. Rathbone, S. Senel, I. Pather (Eds.)
1st Edition, 2015, XVI, 279 p.
Hardcover, ISBN 978-1-4899-7558-4
Order Today

RNA Interference from Biology to Therapeutics is an up-to-the-minute, highly informative and invaluable text for those actively involved or interested in this fascinating and high-impact field. The Nobel Prize winning discovery that small interfering RNA can be utilised to control cellular gene expression has propelled the field of RNA interference (RNAi) to the forefront of biomedical science as a potential molecular medicine set to revolutionalise disease treatment. Harnessing the molecular mechanisms of RNAi and development of delivery technologies is crucial for its transformation into a therapeutic modality. This dependency is the focus of "RNA Interference from Biology to Therapeutics" that gives a comprehensive overview of RNAi biology and state-of-the-art delivery methods relevant to clinical translation of RNAi therapeutics.
Key players and shapers in the fields of RNAi and delivery science have been assembled in a single volume to produce a truly unique interdisciplinary text, making it a "must-read" for both students and experts in, and at the interface of, RNAi, pharmaceutical science and medicine. An attractive feature is the "future perspectives" section within each chapter that allows global leaders the opportunity to express their views on the direction the field is moving.
Howard, Kenneth A. (Ed.)
1st Edition, 2013, XV, 512 p.
Hardcover, ISBN 978-1-4614-4743-6
Order Today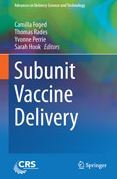 Subunit Vaccine Delivery compiles the concepts essential for the understanding of the pharmaceutical science and technology associated with the delivery of subunit vaccines. Twenty-one chapters are divided into four main parts: (I) Background; (2) Delivery Systems for Subunit Vaccines; (3) Delivery Routes, Devices and Dosage Forms; and (4) Pharmaceutical Analysis and Quality Control of Vaccines.
Part one provides a basic background with respect to immunology and general vaccine classification. In part two, it presents representative types of vaccine delivery systems individually with focus on the physicochemical properties of the systems and their significance for the immune response they stimulate. These delivery systems include aluminum adjuvants, emulsions, liposomes, bilosomes, cubosomes/hexosomes, ISCOMs, virus-like particles, polymeric nano- and microparticles, gels, implants and cell-based delivery systems.
Foged, C., Rades, Th., Perrie, Y., Hook, S. (Eds.)
2015, XIV, 431 p. 65 illus., 48 illus. in color.
Hardcover, ISBN 978-1-4939-1416-6
Order Today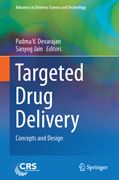 Targeted Drug Delivery: Concepts and Design explores the fundamental concepts and numerous applications of targeted delivery of drugs to the body. This compilation has been divided into eight sections comprised of the basic principles of drug targeting, disease and organ/organelle-based targeting, passive and active targeting strategies, and various advanced drug delivery tools such as functionalized lipidic, polymeric and inorganic nanocarriers. Together, the twenty-three chapters cover a wide range of topics in the field, including tumor and hepatic targeting, polymer-drug conjugates, nanoemulsion, physical and biophysical characteristics of nanoparticles, and in vivo imaging techniques, among others. The book also examines advanced characterization techniques, regulatory hurdles and toxicity-related issues that are key features for successful commercialization of targeted drug delivery system products. Targeted Drug Delivery is a comprehensive reference guide for drug delivery researchers, both beginners and those already working in the field.
Devarajan, Padma V., Jain, Sanyog (Eds.)
2015, XVIII, 790 p. 125 illus., 103 illus. in color
Hardcover, ISBN 978-3-319-11354-8
Order Today