About Us
CRS Young Scientists are a diverse group of people who are typically students and early career scientists in academia or industry under the age of 40 years, or scientists with less than five years' experience in the science, technology, and innovation of delivery of bioactives.
A passion to overcome challenges and innovate in the delivery of bioactives
A thirst to broaden their scientific knowledge
A desire to build their career and develop professionally
The Young Scientist Committee (YSC) is a team dedicated to bringing stimulating education workshops and new networking concepts to meet the needs of CRS member Young Scientists.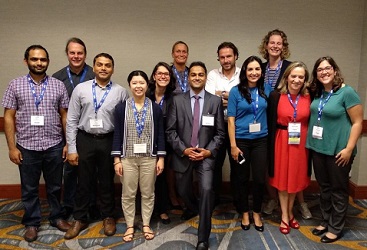 ---
Networking Opportunities
YSC hosts a number of interesting and new networking concepts because we believe it is critical to meet, interact, and exchange ideas with other CRS members both with other Young Scientists and the broader CRS community. These interactions are a crucial part of career development, and networking contacts for present and future career opportunities. Networking activities held during the Annual Meeting include:
Young Scientist Meet & Greet
Young Scientist Networking Event
Start with a Luminary
Interview with a Luminary
'Interview with a Luminary' is an exciting project from the Young Scientist Committee! We sit down with a renowned researcher in the field of drug delivery and pick their brains on topics including what sparked their interest in their chosen field, defining moments in their careers to date and what they enjoy doing outside of the lab. They will also offer advice to those starting out on their scientific careers which we're sure every young researcher will be interested to hear! So join us for an insight into the minds of those at the pinnacle of drug delivery research around the globe!
Workshops
Workshops are an important part of the Annual Meeting which provide the opportunity to learn about new science in the field and enhance research collaboration. 
Take Care of Your Career
The Young Scientist Committee aims to help junior members from the CRS to succeed in their careers and boost employability within or outside Academia by publishing career development articles.
Getting Involved
The Young Scientist Committee (YSC) is always happy to welcome new members. All scientific students, early career scientists, and professionals are welcome - we would love to hear from you.
Throughout the year, you can stay connected with the CRS Young Scientists via our social media platforms. It means you can be the first to hear about what is coming up and you can also contribute to ideas and feedback. What are you waiting for? Get involved now!
Local Chapters
Local Chapters are an excellent way for Young Scientists to get involved. Affordable Post-Doc and Student membership rates make it easy and accessible to engage.
YSC at the CRS Annual Meeting & Exposition
Hear from our members to see what it is like to attend the CRS Annual Meeting & Exposition as a young scientist.