Mission Statement: 
The CRS Diversified Products: Delivery Beyond Pharma (C&DP) Division is a multi-disciplinary, international group of CRS members dedicated to advancing science, technology, and education in the field of controlled release or delivery of non-pharmaceutical active ingredients. The Division is dedicated to fostering excellent scientific dialogue in the areas of Encapsulation and Delivery of Actives for industrial, Functional, and Consumer applications, bridging industry and academia. The division promotes scientific and educational value by hosting scientific sessions or symposia, roundtable, workshops at the CRS Annual Meeting with eminent speakers from both academia and industry.  C&DP also engages in scientific interactions face-to-face with Annual Meeting activities. The Consumer & Diversified Products Division is an integral spoke of the CRS Community.
This Division promotes controlled release activities in an extensive range of interests beyond those of the pharmaceutical industry. Applications include, but are not limited to,application, active materials, and release challenges as exemplified below:
Food, Nutraceuticals and Oral Delivery - nutraceuticals, food, bioactives, minerals, preservatives, ingredients, probiotics, flavors, enzymes, tobacco, etc.
Personal Care and Cosmetics - fragrances, active ingredients, color agents, reactive ingredients
Household Products -  fragrance, reactive ingredients, enzymes
Agriculture - fertilizers, fungicides, pesticides, biologicals
General Industrial, Paints & Coatings - biocides, reactive ingredients, oxidizers, etc.
Pest Control - pesticides
Textiles - colors, reactive ingredients
History of C&DP Meet the Officers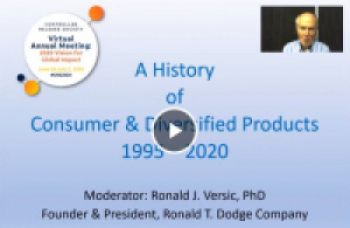 Join the C&DP Division
Anyone can join the C&DP Division of CRS during the process of annual registration or renewal.  C&DP leadership will be notified, and your name will be added to subsequent communications for the term that your CRS Membership is valid. If you are already a current member of CRS and would like to become a member of C&DP, please send an email to membership.
Click here to view a message from the Leadership
Who's Who Series