Mid-year newsletter BeNeLux & France Local Chapter
The recently established BeNeLux & France (BNLF) Local Chapter aims to bring together scientists in the fields of drug delivery and nanomedicine located in Belgium, the Netherlands, Luxembourg and France. We stimulate scientific knowledge exchange and collaborations between industrial and academic experts, provide networks and represent at a local level the Controlled Release Society (CRS). Supported by the CRS, we contribute to local meetings and conferences, keep our members up to date with the news in the field and provide a platform to share job opportunities and scientific content.
INAUGURAL BOARD MEETING
Last April, the first meeting between the CRS BNLF Chapter Board Members took place in Utrecht, the Netherlands. The Chapter's future development was discussed and its main objectives established:
bring together local drug delivery and nanomedicine experts from industry and academia by providing them with a networking platform, stimulating scientific knowledge exchange and collaborations

support early career scientists by boosting their network and professional development, sharing career opportunities and creating exchange programs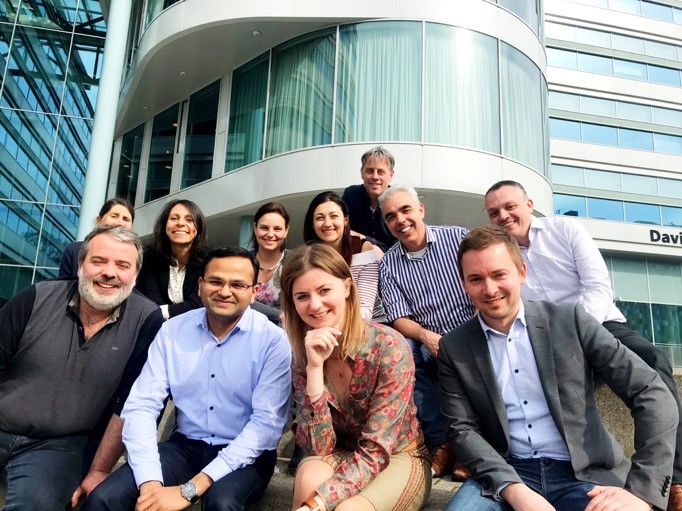 First CRS BNLF Board Meeting.
Top row: Emilie Roger, Giovanna Lollo, Tina Vermonden, Valentina Francia, René van Nostrum, Raymond Schiffelers, Jos Paulusse.
Bottom row: Guillaume Bastiat, Jai Prakash, Natalia Vtyurina, Koen Raemdonck.
We would like to acknowledge the CRS for financial support of this meeting.
EXECUTIVE COUNCIL ELECTION
Among the Chapter's twenty Board Members, six were elected to form the Executive Council for the term 2019-2020. We are happy to announce the following names: Natalia Vtyurina (President), Jai Prakash (Vice-President), Giovanna Lollo (Secretary), Jos Paulusse (Industrial Relations Coordinator), Koen van der Maaden (Treasurer) and Roy van der Meel (Early Career Scientists Coordinator).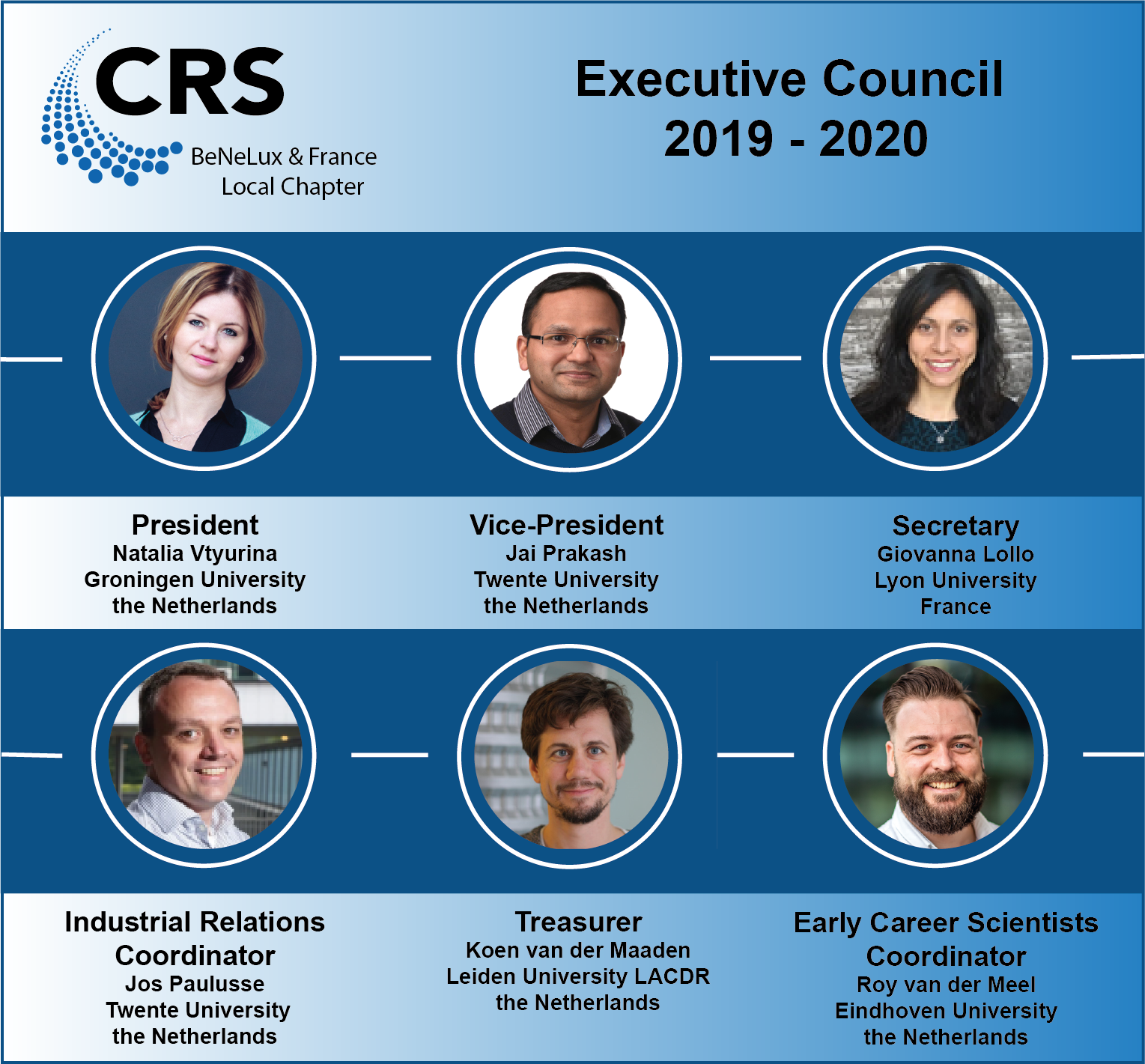 CRS TRAVEL GRANT AWARD 2019
CRS Local Chapters support Early Career Scientists by providing them with more opportunities to present and discuss their research. This year four BNLF Chapter early career scientist members were awarded with the CRS Young Scientist Travel Grant 2019 ($500) to attend the CRS Annual Meeting & Exhibition in Valencia, Spain. These scientists are Board Members of the Chapter who actively participate in its development: Valentina Francia (Social Media Coordinator), Keni Yang (Membership Coordinator), Koen van der Maaden (Treasurer) and Natalia Vtyurina (President).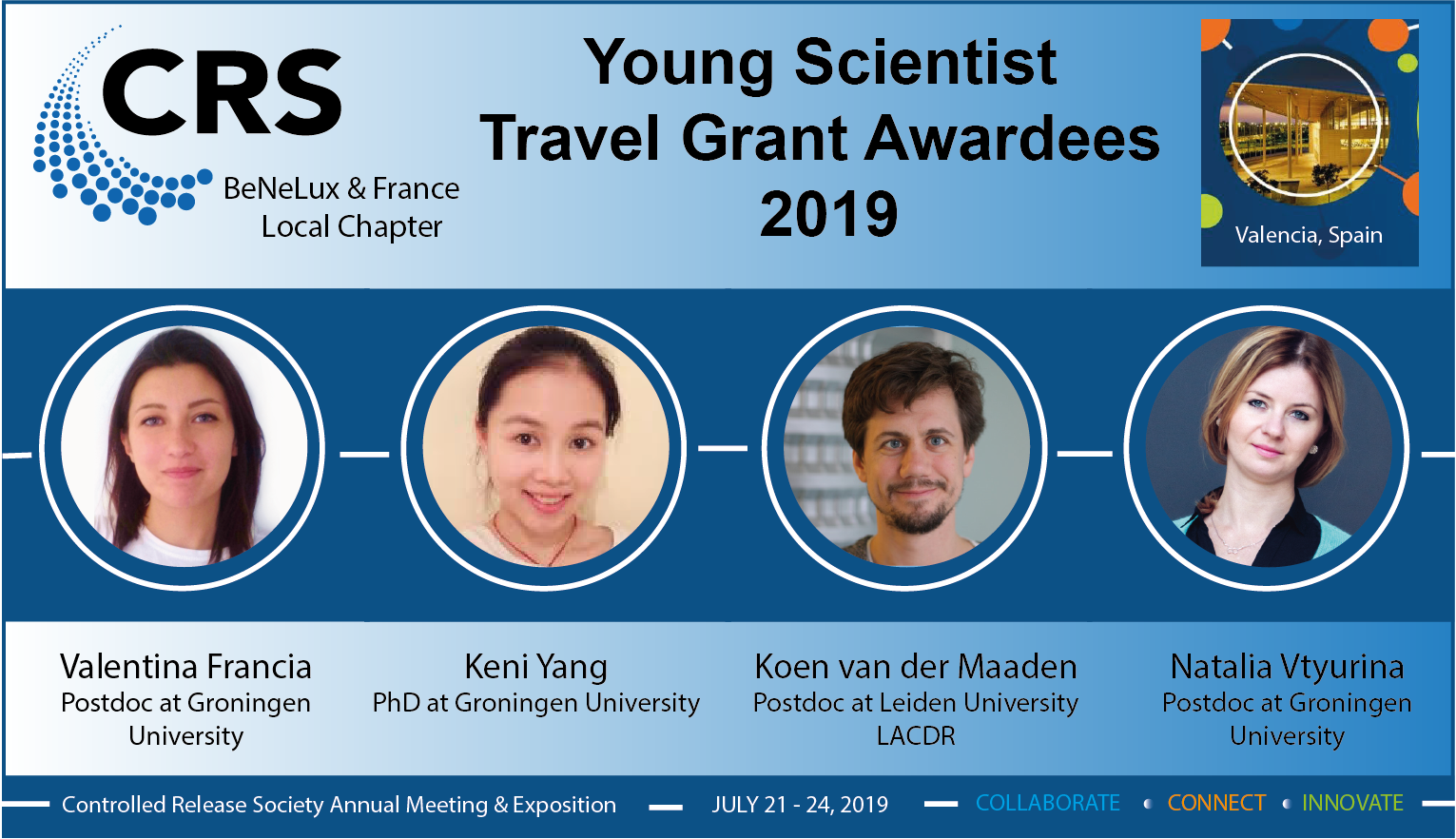 EARLY CAREER SCIENTIST COMMITTEE (ECSC)
Most recently, the CRS BNLF Chapter established its Early Career Scientist Committee (ECSC): the team of six enthusiastic members who are coordinated by Roy van der Meel (Assistant Professor, Eindhoven University of Technology). The Committee is dedicated to contribute to the Chapter's main objectives to support early career scientists members. To achieve this, the ECSC will organize activities aimed at advancing its members' network, scientific career and personal development.
For example, these activities will include hosting sessions at local scientific meetings and conferences, organizing webinars and workshops with leading scientists, acquiring sponsorship, fund travel grants, arranging internships, creating mentorship and exchange programs. We are happy to announce our first members forming ECSC: Aldy Aliyandi (Industrial Coordinator), Anna Lechanteur (Communication Officer), Bárbara Mesquita (Events Organizer), Harita Yedavally (Graphics Coordinator), Hector Garcia Romeu (Membership Coordinator) and Mohamad Tarhini (Graphics Coordinator). We hope to grow further and welcome many more early career scientists to the Chapter.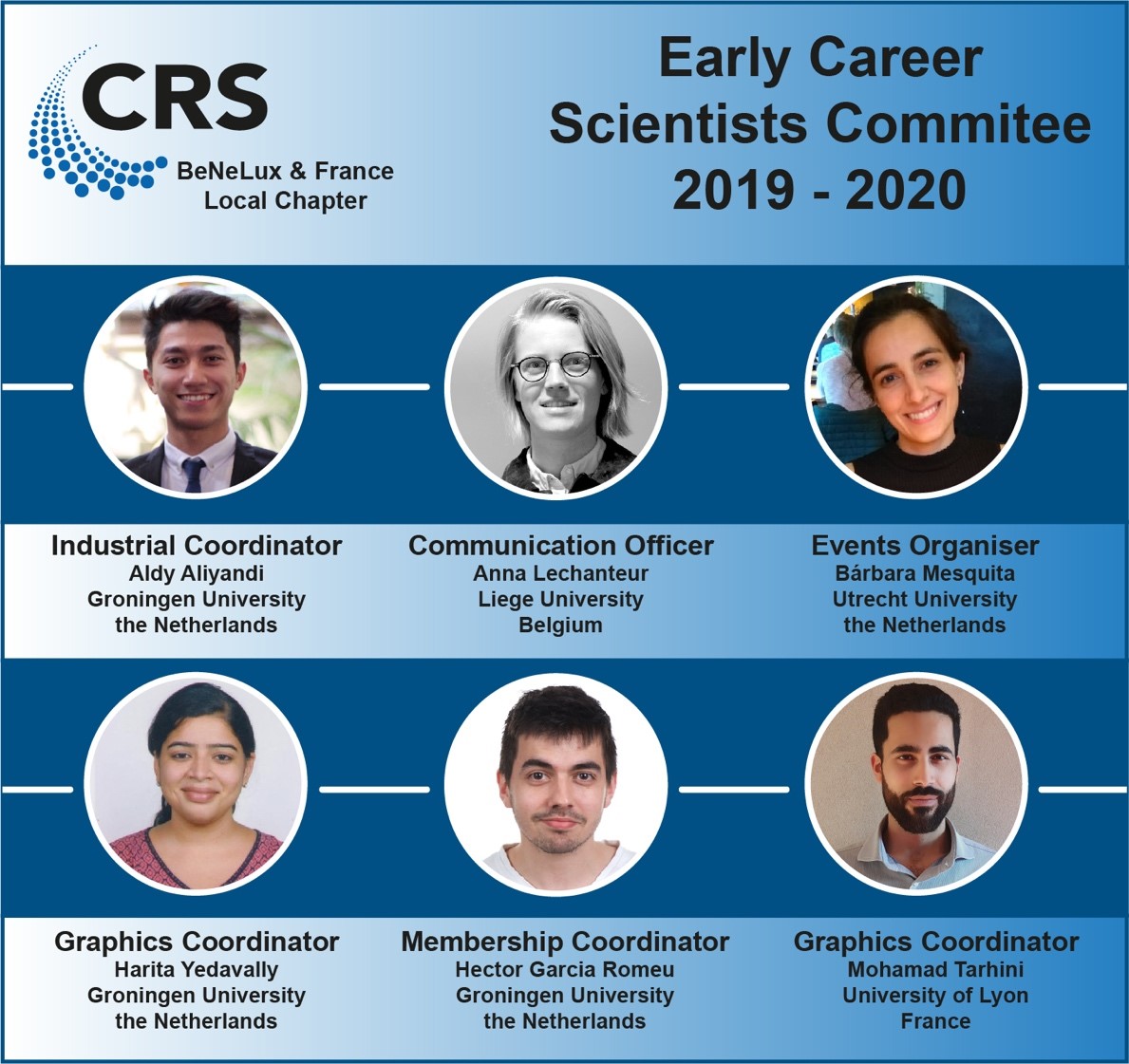 NETWORKING WITH OTHER CRS LOCAL CHAPTERS
The BNLF Chapter is currently connecting with other CRS Local Chapters to learn from their experience. We envision that establishing collaborations between Chapters will provide mobility opportunities for early career scientists. We are already in touch with Local Chapters in Italy, Spain-Portugal, United Kingdom-Ireland, India and New Zealand. The response has been very enthusiastic and supportive, as they are highly interested in future collaboration and strengthening our relations. We hope to establish connections with more Local Chapters from all over the world during the CRS Annual Meeting & Exposition 2019 in Valencia, Spain.
CHAPTER GROWTH
The BNLF Chapter is growing fast and we are happy to announce that we have reached 100 members! Among them 48% are principal investigators, 30% are early career scientists, 15% are industrial members and 7% are members in other positions. Looking at the locations, 13% of members are from Belgium, 56% are from the Netherlands, 33% are from France and 1% is from Luxembourg. 

UPCOMING EVENTS
1. CRS Annual Meeting & Exposition in Valencia, Spain 20-24 July 2019
https://2019.controlledreleasesociety.org
Please find the full program for chapter related activities and our members presenting attached as well as on the main page of our chapter: https://bnlf-crs.org/home
2. Annual Conference Netherlands Society of Biomaterials and Tissue Engineering (NBTE) in Lunteren, the Netherlands 21-22 November 2019
https://nbte.nl/annual-meeting 
3.  SFNano & C'Nano Joint Meeting in Dijon, France, 10-12 December 2019
https://sfnanocnano2019.sciencesconf.org
4. 16th edition of the European Symposium on Controlled Drug Delivery (ESCDD) in Egmond aan Zee, the Netherlands, 7-10 April 2020
Best wishes,
CRS BNLF Local Chapter News
E-mail: bnlf.crs@gmail.com
LinkedIn: linkedin.com/company/bnlf-crs
Twitter: twitter.com/CRSBeNeLuxFr
Website: https://bnlf-crs.org/