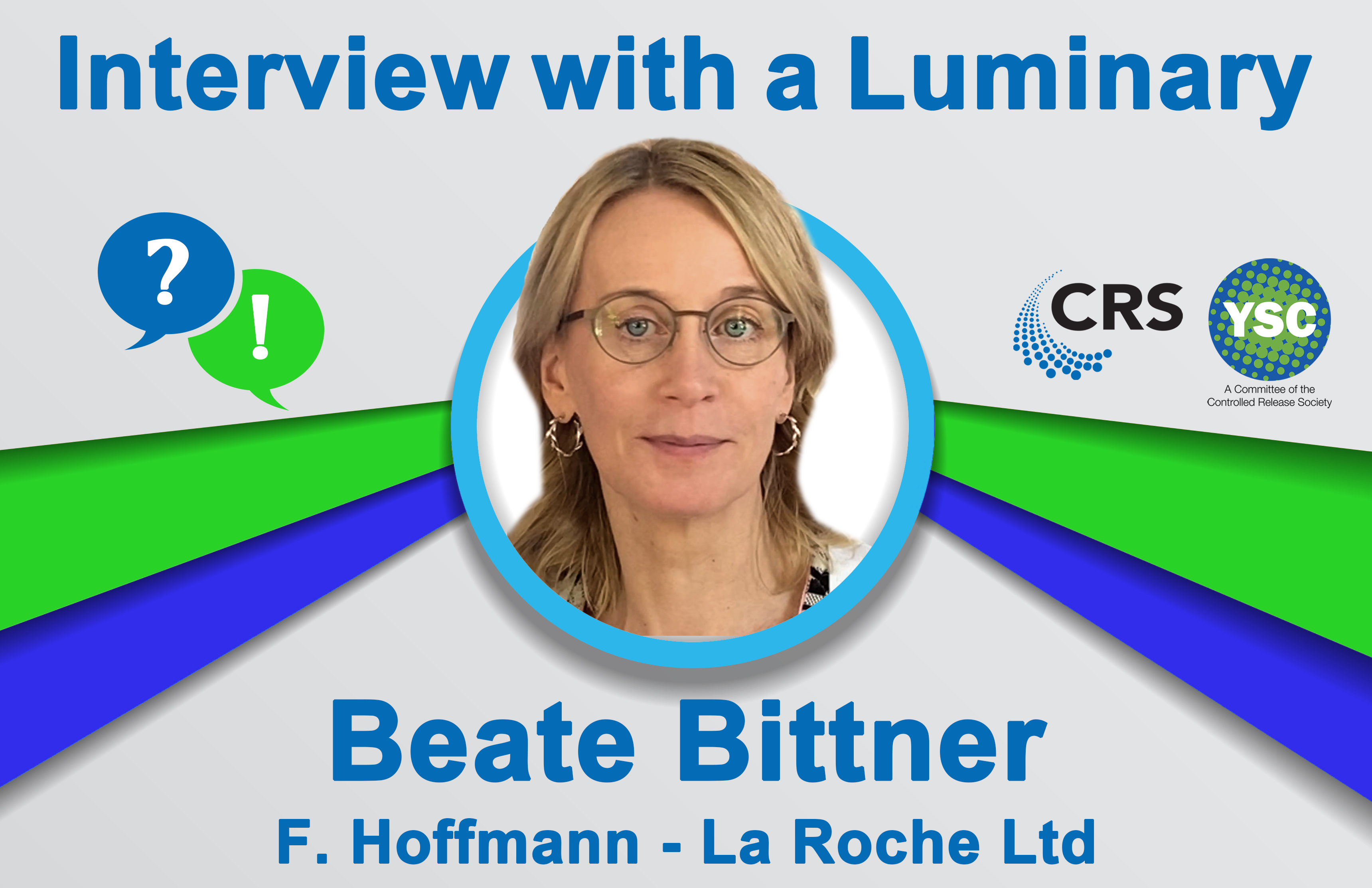 In her role as Product Optimization Franchise Leader, Beate drives the multidisciplinary development of strategic options and the commercial value assessment for drug delivery improvements across the Roche portfolio. 
Beate joined Roche in 1998 and held numerous positions of increasing responsibility including Preclinical DMPK Project Leader, Laboratory Head Preformulation, Clinical Pharmacologist, Clinical Team Leader, Global Development Team Leader, Global Project Leader, and Product Optimization Director. Since 2012 Beate has been a lecturer at the Baden-Wuerttemberg Cooperative State University in the field of Personalized Health Care, Developing New Drugs, and Pharmacology.
Beate is trained as a pharmacist with a PhD in Pharmaceutical Technology & Biopharmaceutics from the University of Marburg, Germany, and holds a diploma in European Market Access from the Aix-Marseille University, France.
Questions for Luminary
What sparked your interest in science in general and drug delivery in particular?
I think this is the classical one. Already as a child, I was deeply impressed by the efficiency of needle-free injections at Star Trek: The Original Series' sickbay. Exiting to see we are on our way to getting there…
Share a turning point or defining moment you experienced in your work as a scientist.
I experienced a defining moment in my career as a scientist when we received anecdotical feedback from the very first person receiving our high-volume subcutaneous formulation of rituximab in the clinical dose-finding trial in participants diagnosed with non-Hodgkin's lymphoma. They did highly appreciate the convenient dosing alternative to intravenous infusions and stated to never want to go back to intravenous dosing. While only one person, this was an initial sign that this drug delivery improvement had the potential to markedly improve the experience with parenteral administration. This "first impression" was later confirmed for rituximab and other high-volume monoclonal antibody formulations in dedicated preference studies and highlights the important role of drug delivery in treatment management.
Tell us about the exciting ways in which your particular field is progressing.
What excites me most about our area of drug delivery is that, as a community, we are very successful on our journey to more convenient dosing of high-dose monoclonal antibodies in cancer care. Here we are moving from an almost exclusive healthcare institutional environment to a more flexible care setting that allows people treated to choose the place of drug administration according to individual preferences. Drug delivery enabling technologies, increasingly paired with telemedicine offerings, will form the basis for remote treatment management and may also facilitate the application of value-based healthcare provider reimbursement schemes globally.
What is the best piece of professional advice you have received and from whom?
The best advice was from my line manager and mentor Johannes Schmidt (Global Head of Product Optimization at Roche). He uses to emphasize that it is not what you say you would do, but what you actually do, so what you finally deliver together with your team will be most important for a sustainable and enjoyable career path.
Would you change anything about your career path if you could start over?
I am very grateful for the career path I could and still can pursue. Looking back at the time I started doing my Ph.D. and later working in the industry, one thing I should have done is to look for a mentor experienced with the dynamics in academia or large companies. This would have helped me early on to understand that facing challenges and pushback is a natural part of the journey of innovation and that overcoming associated hurdles in a diplomatic and integrative way is at the core of our work and should therefore be seen as an opportunity to grow.
What advice would you give to someone who is starting their scientific career?
Once you find a scientific area you feel passionate about, do not shy from investing time to learn and explore the field to really become an expert first. If you started a career in drug delivery sciences, you may then want to explore moving to other related fields such as nonclinical sciences, clinical development, or even market access. My recommendation here would be to try to take opportunities to link the work in other areas with your core expertise, so you can truly grow as a professional and learn about your favorite topic from different angles.
What do you enjoy doing outside of the lab? What are your hobbies/interests?
Outside of work, I enjoy spending time with my family. Also, I am truly passionate about visiting and maintaining historical buildings and I love digging deeply into aspects of work psychology and philosophy.