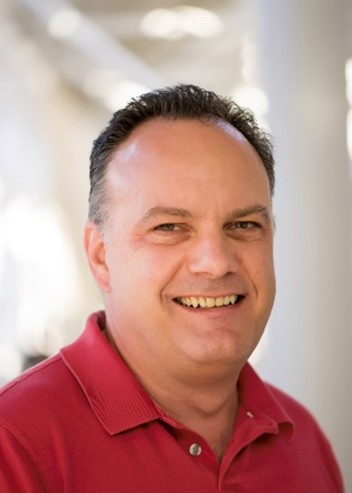 Douglas Dale is currently a Technical Fellow, Head of Health and Biosciences Formulations at International Flavors & Fragrances (IFF). Dr. Dale has been involved with has been working on controlled release and delivery of proteins, enzymes, small molecules, and live organisms for industrial applications, such as Home and Personal Care, Animal Nutrition, Food and Grain Applications. He started his exciting career at Genencor, a spin out from Genentech.  The company and business has evolved with the changes and business expansion from Genencor to Danisco, then DuPont and most recently IFF in February 2021 acquired the Nutrition and Biosciences division of DuPont of which Dr. Dale is a member. Nearly all this time Dr. Dale has pursued a fun and rewarding journey.
Dr. Dale was first introduced to CRS and C&DP Division at the 2005 Annual Meeting in Miami. He immediately joined the C&DP division and very soon thereafter was on the organizing committee for the Long Beach Annual meeting in 2007 followed by becoming the chair of the C&DP Division. He has been more or less involved as his time allows since the start of his membership.
Q: What would you say is the main difference between the (encapsulation/controlled delivery industry) when you started with it and as it is today?
A: I would say the main differences are in the complexity of the delivery modes and technologies. In the context of industrial applications, the challenges of when and where to deliver actives has increased. Be it temperature, pH, chemical compatibility or humidity, the environments of protecting and releasing the payload has necessitated advances in approach.  This is one of the advantages in participating in CRS. In the industrial space, one can apply approaches utilized for pharmaceutical delivery, but perhaps have more material options as we are not limited to qualified materials for human use. The other aspect that has changed considerably is the regulatory environment. Materials are continually being banned or limited in applicable concentration. This increases the challenge for the delivery scientist, but still solutions can be obtained. Finally, of course technology has advanced. Microfluidics, additive manufacturing and others have increased the possibilities to address and deliver in complex situations.
Q: If you had to think back, was there a single moment in your life that sparked your interest in what you're doing now?
A: Early in my career I was asked to join our Formulations team at Genencor. This was an area that I was not familiar with having been trained as a biochemist. However, very quickly I realized that formulation and delivery mechanisms were essential to enable the use of our powerful actives in the application.  That was my "lightbulb" moment. Without these systems, the active would never be able to perform where needed.  Solving these challenges gave a great feeling of accomplishment. Being able to see products on the shelf in the supermarket that contained my company's actives contained in delivery systems that I designed and patented is a great feeling.
Q: Favorite CRS annual meeting venue that you've attended?  Why?
A: I suppose I should say my first meeting in Miami since that is where my relationship with CRS and C&DP began. It was a great meeting with good content, but almost more importantly the personal relationships and colleagues gained, many of which I am still in contact with today. This aspect is one of the most special parts of CRS. The Miami meeting also had one of the most memorable meeting dinners with great music and dancing. Aside from Miami, I invested a lot of time in helping to organize the Long Beach meeting in 2007. It was a lot of work but satisfying seeing the event come together. We also had a good event dinner there, held at the aquarium. But if I had to choose my favorite, I would have to go with Edinburgh in 2015. Once again, I helped with the organization of this meeting. Scientific content was very good and wonderful networking with old and new colleagues. And again, a rememberable meeting dinner event. Also, a plus for me is that my family joined me at the end of the meeting to spend a couple weeks' vacation in Europe. Spending time in Scotland, Norway to visit an exchange student my family had hosted, and Ireland.  In the end, all the of annual meetings I have attended have been memorable. Yes, for the science, but almost more importantly the personal relationships.
Q: In your free time, what do you like to do?
A: I love spending my time outdoors, ideally with friends and family. I spend time hiking, gardening or playing sports. Even on vacation, I seek out opportunities to explore and adventure outside. I also enjoy applying fermentation science with my homebrews and hard cider hobby. 
Q: Do you have plans for after your career?
A: Not solid plans yet. Certainly, spend more time with family and friends. I do plan to get more involved with education. Volunteering at local elementary and secondary schools to share my knowledge and advocate in STEM careers. And maybe expand my home fermentation hobby into wine.