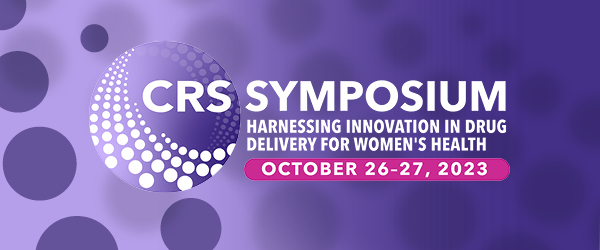 The Controlled Release Society (CRS) is hosting a 2-Day Virtual Symposium on October 26-27, 2023. This "Harnessing Innovation in Drug Delivery for Women's Health" Virtual Symposium will focus on in depth knowledge of innovative biomedical engineering technologies for women's health. We will explore drug delivery for maternal and fetal health and discuss global accessibility with innovative technologies.
This virtual event will explore key drug delivery technologies for women's health. We will explore recent innovations in biomaterials, 3D printing, microneedles and nanosystems in key areas such as vaginal delivery, hormonal therapies, infectious diseases, contraception and drug delivery during pregnancy. An outstanding lineup of world class researchers will present state-of-the-art approaches setting the map for future research to accelerate new technologies and therapies to solve current challenges and unmet medical needs. Attendees will also hear from a selection of industry speakers who will provide overview and exploration of how breakthrough delivery technologies are transforming the pharmaceutical industry. To help push the field, speakers from funding agencies and publishing bodies will present their strategies to promote women's health and enhance global impact via implementation and accessibility of new technologies and therapies in low and middle-income countries (LMICs).
**All Information is Subject to Change**
Click below to register for the Women's Health Virtual Symposium.
 CRS offers discounts to low-mid-income countries based on the World Bank List . Prior to registering submit an LMIC discount code request here
If you are applying for the student discount please use the form below to submit your verification information

Interested in sponsoring this event? Please click below for more information
For additional sponsor questions please reach out to:
Stacy McManus
Senior Industry Relations Director
smcmanus@controlledreleasesociety.org
Questions about the Virtual Symposium? Please contact the meetings team at: meetings@controlledreleasesociety.org