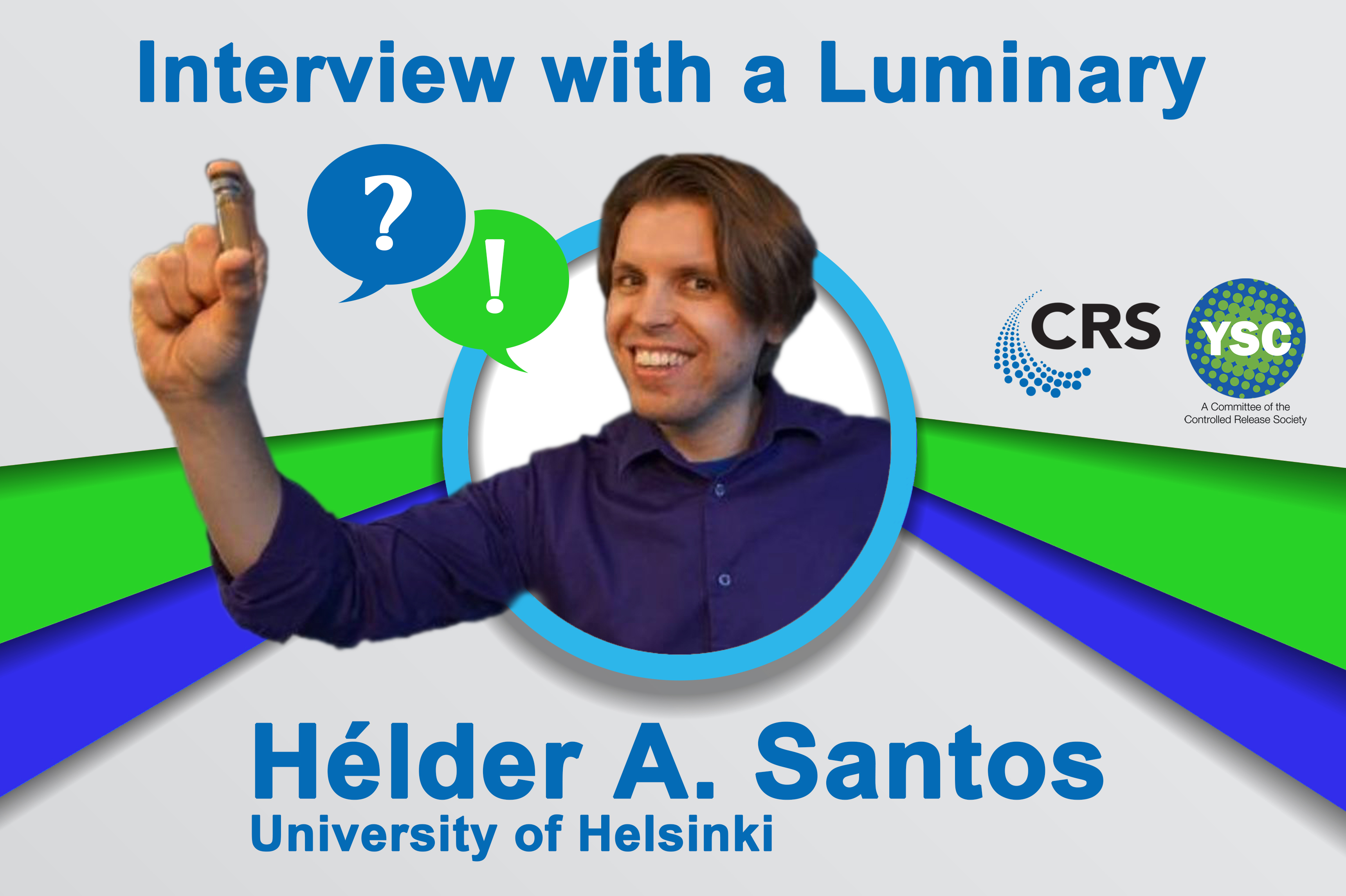 Prof. Santos (D.Sc. Tech., Chem. Eng.) is an Associate Professor in Pharmaceutical Nanotechnology (appointed Full Professor after 1st of June 2020), Head of the Nanomedicines and Biomedical Engineering Group, Director of the Doctoral Program in Drug Research at the University of Helsinki, and also Director of the national FinPharmaNet. He is also a Fellow Member of the Helsinki Institute of Life Science, Chair of Controlled Release Society Focus Group in Nanomedicine and Nanoscale Delivery, and the co-founder of the start-up company on drug delivery devices Capsamedix Oy.
Prof. Santos's research interests include the development of nanoparticles/nanomedicines for biomedical applications. He has authored/co-authored more than 300 publications (h-index = 56), and he has edited/co-edited 2 books (4 more coming soon!) and participated in more than 160 invited/selected talks in national and international meetings/conferences/symposia.
Prof. Santos has received a number of prestigious awards and grants, such as the "Talent Prize in Science" attributed by the Portuguese Government in 2010, the European Research Council (ERC) Starting Grant in 2013 (an individual grant worth 1.5 M€) and ERC Proof-of-Concept in 2019, the Young Researcher Award in 2013 attributed by the Faculty of Pharmacy at the University of Helsinki, and the Academy of Finland Award for Social Impact in 2016. He has also attracted competitive funding worth more than 10 M€, at both national and international levels.
So far, Prof. Santos has supervised/co-supervised more than 20 Post-docs, more than 25 Ph.D. students, more than 75 MSc students, and several researcher assistants/technicians and visiting researchers.
Prof. Santos is also an Editor and Editorial Advisory Board Member in several international peer-reviewed journals, including PLOS ONE, Journal of Healthcare Engineering, BioMed Research International, Advanced Healthcare Materials, Advanced Therapeutics, Smart Materials in Medicine, Drug Delivery Letters, Current Nanoscience, Pharmaceutical Nanotechnology, AIMS Materials Science, Frontiers in Bioengineering and Biotechnology and Materials, and Frontiers in Biomaterials. He has also acted as a referee for several top-ranked journals and international funding agencies all over the world.
Questions for Luminary
What sparked your interest in science in general and drug delivery in particular?
In science was the TV series MacGyver, the guy solving all problems with a Swiss Army knife – he was my idol for many years of my life (laughs!); then after I watched for the first time the science-fiction movie "Fantastic Voyage" (really recommend if you have not seen it!); and also by reading my science books in school about the work of Sir Alexander Fleming and Louis Pasteur – I found their research work fascinating! In high school, I became extremely interested in Chemistry and all chemistry phenomena, and soon I realized I wanted to be a scientist or something similar (laughs!). In my last project at the university, I start studying the electrochemical mechanisms behind the transport of drugs across biomimetic phospholipidic membranes, and from that moment and on, my interest in drug delivery increased sharply until now (laughs!).
Share a turning point or defining moment you experienced in your work as a scientist.
For me, there have been very important turning points in my career, even before I could call myself a scientist. First, the realization you really want to make science as your career, and that happen when I was invited by one of my chemistry professors at the University of Porto to help him to set up a new instrument in the lab when I was in my 4th Chemistry degree. Late that summer, I did my first real experiments with that machine and felt like "a scientist" for the first time. The second turning point was choosing the country and the subject for my doctoral studies. I had few options but ended-up in Finland working at the School of Chemical Engineering in the Laboratory of Physical Chemistry and Electrochemistry. The lab gave me everything I needed to become a successful scientist, in such a way, that even before finalizing my Ph.D. I started my post-doc work at the Faculty of Pharmacy at the University of Helsinki. This gave me the possibility to work on another research area and provided me another perspective about science and research in the field of nanomedicines and controlled drug delivery. The next turning point was when I first apply for a post-doc grant on my own and got it. I was truly happy and did not stop and continued to gather a few more successful applications thereafter. This was probably one of the major defining moments of my (short at that time) career because it allowed me to do the kind of research I liked (on nanomedicines and drug delivery) and also to start building up my own research group at the Faculty of Pharmacy at the University of Helsinki. This paved the way to the future of my career that I am very proud and happy to have reached so far (laughs!).
Tell us about the exciting ways in which your particular field is progressing.
We are working in the fields of nanomedicine and biomedical engineering. These are two closely related fields that have progressed tremendously in the past years. Let's take the example of nanomedicine. Great progress was made in recent years regarding controlled drug delivery and targeting applications to, for example, cancer tumors, and now despite all debate around whether or not they are/have been successful, more and more drug nano-delivery systems are entering the clinical trials.
As we enter the new era of nanomedicine and we deepen our knowledge and understanding on how new nanomedicines perform at the patient level, we will certainly witness another paradigm shift on the current ways to treat known diseases, such as cancer or diabetes, as well as the way we can translate such nanotechnologies for the treatment of potential new diseases like the recent COVID-19 pandemic.
Our group has been interested and focused for several years on the research of different bioengineered approaches and advanced nanosystems to tackle some of the current problems in delivering drugs across different biological barriers and try to find solutions to solve those problems encountered, for example, in the treatment of diabetes, cancer, and cardiovascular diseases. Currently, we have been deeply focused on the development of nanovaccines for cancer immunotherapy and myocardium infarction applications. The more we investigate and understand the bio-nano interfaces and their behavior both in vitro and in vivo, the more exciting it becomes and the closer allows such nanotechnologies to become translatable to a clinical setting.
What is the best piece of professional advice you have received and from whom?
I think I have heard several good and bad advice throughout my career, from so many different people I have met. Some of the ones I think were good. I still use them for my self-motivation and inspiration and also share them with my students and researchers.
For example, always believe in yourself and in what you can do as a scientist, and trust you can achieve everything you want by working the best you can. Also, be prepared to face failure in science, but stand-up and never-give-up no matter how difficult the situation is. Make sure you are doing in research what you love and what you have a passion for your research work. Learn how to create an excellent research team around you or join an excellent research team that can support you all the way in your career. I'd have many more, but these are the ones on top of my head now (laughs!).
Would you change anything about your career path if you could start over?
Every time I ask myself such a question or someone asks me about this, I say that probably not. There were so amazing experiences along my career path that I'd not change for anything like I had met so many amazing people, mentored so enthusiastic and eager students and researchers from all around the world, became a professor at the University level (never thought this was even possible when I was a child – lots of laughs!), have done beautiful things in research that makes me happy and proud, and have had the privilege to contribute to preparing the next generation of young scientists and professionals.
Overall, I have worked with such fantastic people in past years around the world, traveled to places I never thought before to talk about science, sharing my knowledge and expertise with young researchers, connected with renowned scientists, and also enter some of their circles (laughs!). Thus, I could not change a thing in my career path, because each one of those moments stated above allowed me to grow as a better scientist and as a better person (I think – lots of laughs!).
What advice would you give to someone who is starting their scientific career?
I am sure I am not the best person to give advice (laughs!), so always truly follow your heart. Always be curious about everything. Get inspiration from your mentors/colleagues, but get your own ideas and do not be afraid to try them out. Remember that there are no stupid questions; every simple question is important to move science forward. Try to find the answers by looking to the problems from a different angle and find new solutions to such problems, even if the methods/approaches might seem absurd to the others – remember it is your own path, so listen to people, but do not necessarily follow what everyone is telling/advising you should do (as I said above, follow your heart!). More importantly, in your scientific career, it is always important to be inventive, innovative, and creative in everything you do. And finally, always keep a positive attitude, even in the hardest times you will encounter (trust me, there will be many, but always believe you can get through those no matter what!), and always keep your horizons open to everything.
What do you enjoy doing outside of the lab? What are your hobbies/interests?
The most active ones from time to time are Running (a lot!), skiing (sometimes), and Finnish sauna (a lot!). I also enjoy a lot listening to inspirational music, watching true-story inspirational movies (mostly related to science and history), watching science and history documentaries, and playing chess and golf (though not very good at it yet – lots of laughs!).