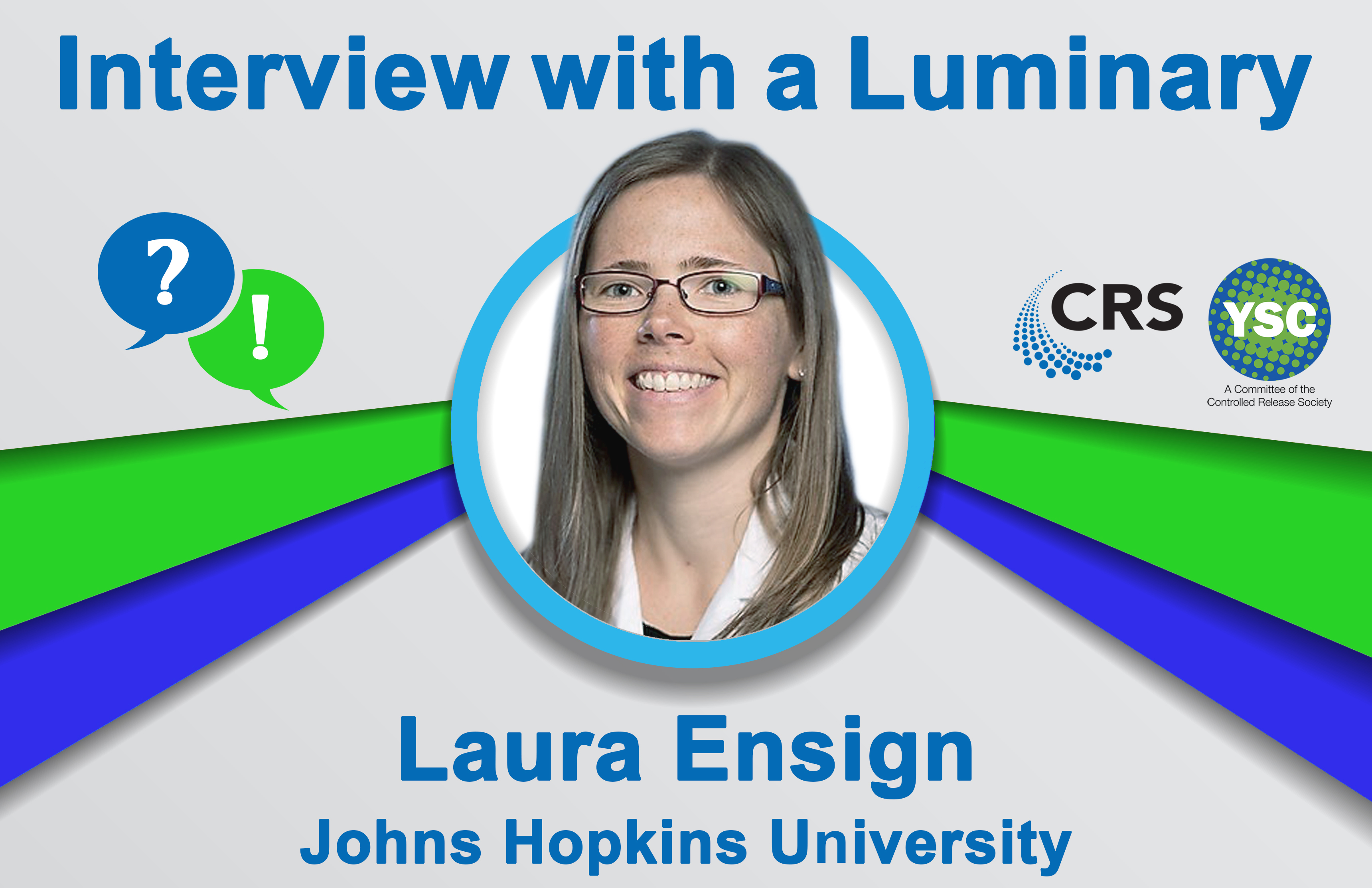 Laura Ensign, PhD received her BS in Chemical and Biomolecular Engineering from The Ohio State University in 2007, and her PhD in Chemical and Biomolecular Engineering from Johns Hopkins University in 2012. She currently holds the Marcella E. Woll Professorship in Ophthalmology, and is the Vice Chair for Research for the Wilmer Eye Institute at the Johns Hopkins University School of Medicine. Dr. Ensign is an Associate Professor in Ophthalmology, with secondary appointments in Chemical and Biomolecular Engineering, Biomedical Engineering, Pharmacology and Molecular Sciences, Gynecology and Obstetrics, Infectious Diseases, and Oncology.
What sparked your interest in science in general and drug delivery in particular?
I remember always being interested in science as a young kid. My parents were not college educated, but they made sure to encourage us to pursue our academic interests and to go to college.  Early on, I was attracted to medicine, but later switched my interest to engineering. I saw engineering as a way to help people broadly. I first learned about drug delivery when I was visiting graduate schools and met my future PhD advisor, Justin Hanes. Drug delivery and translational science immediately appealed to my desire to research ways to improve patient care and quality of life. I have been hooked ever since!
Share a turning point or defining moment you experienced in your work as a scientist.
One important defining moment for me as a scientist was when a product based on research I participated in was approved by the FDA. The excitement of seeing the potential real-world impact of laboratory science sparked a new entrepreneurial interest that I did not have when I started graduate school.
Tell us about the exciting ways in which your particular field is progressing.
In the area of ophthalmology, there is increasing attention both academically and in the pharmaceutical industry on the development of sustained delivery systems. There have been several recent approvals of products that provide months of therapeutic efficacy with a single administration. With the tremendous importance that we place on eyesight, innovating in the field of vision-saving treatments is exciting.
What is the best piece of professional advice you have received and from whom?
This is a tough one, because I have been fortunate to have many mentors that have given me valuable advice over the years. Perhaps most recently, Justin told me to make sure that I spend as much time as possible doing things that bring me joy, meaning, or any form of positivity. That being said, being positive is an intentional choice, and while sometimes challenging, very important to our overall feelings of happiness and satisfaction.
Would you change anything about your career path if you could start over?
Honestly, no. I think it is important to make the best decision you can with the information and circumstances you have, and equally important to not spend time imagining what would have happened if you chose another option. In other words, I try to look forward rather than backward. I am quite happy with where my career has taken me thus far!
What advice would you give to someone who is starting their scientific career?
Surround yourself with mentors/supporters. Be helpful to others, and take all the help you can get. Do not hesitate to ask for help or feel guilty for asking, rather, intend to pay it forward whenever you have the opportunity. Be open, be flexible, and ensure that you continue to build your life beyond your career to maintain balance.
What do you enjoy doing outside of the lab? What are your hobbies/interests?
I am a mother of three, so I spend most of my time outside the lab as Mama. My family life helps me not take my career too seriously and to be grateful for the opportunities that I have. With what time I have left, my favorite hobbies are baking, cooking, gardening, and crafts.