Title
Report on the First Joint CRS–CoRE-Net Industry-Academia Networking Day, June 23, 2017

There is a great opportunity in Southeast Asia to grow the network of groups active in the controlled release field. The CoRE-Net group of A*Star focusses on bringing together companies and scientific professionals with a common interest in controlled release and encapsulation technologies by providing a networking platform for technological advancement and seeding opportunities for research cooperation. Their aim is perfectly aligned with CRS, and in recognition we joined forces and organised the First Joint CRS–CoRE-Net Industry-Academia Networking Day, jointly chaired by Ben Boyd (CRS Australian Local Chapter) and Alex van Herk (CoRE-Net/A*Star).
The event attracted approximately 150 registrations, with one-third industry, one-third academia, and one-third A*Star/government researchers. This was considered an outstanding success for a first one-day event, filling the available lecture space at the Biopolis Matrix Building in Singapore to capacity with both local and international attendees. The program was built around networking with only three formal speakers for the day, a poster session, and several networking sessions.

The poster session saw lively discussion in allocated networking groups (left) and intense interrogation of students' knowledge of their work (right).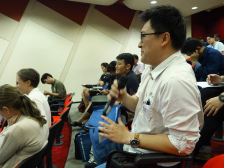 Lively participation from audience members
The three speakers (one academia, one A*Star, and one industry) were Alejandro Sosnik (Technion – Israel Institute of Technology), Motoichi Kurisawa (Institute of Bioengineering and Nanotechnology, A*STAR), and How Yee Fat (Bentz Jaz Group Singapore). Dr. Sosnik described his group's research into polymeric micellar nanocarriers, Dr. Kurisawa spoke on injectable hydrogels, and Dr. Fat described a controlled release technology used to combat the spread of malaria and dengue fever in Singapore. The students presenting posters also gave a three-minute snapshot of their poster, and judging for the best poster was difficult with such fantastic posters and presentations of their research. There could be only one winner, and Eric Saw from University of Malaya received a free student registration to the 2018 CRS Annual Meeting in New York, sponsored by CRS.
The event was completed with a roundtable discussion around a number of controversial topics at the intersection of industry, government research organizations, and academia.
The event was hugely successful, showing what can be achieved in bringing regional groups together, and has led to planning for the first Controlled Release Asia meeting, which will be held in Singapore on September 24 and 25, 2018, immediately prior to the Globalization of Pharmaceutics Education Network (GPEN) conference. Save the dates and keep an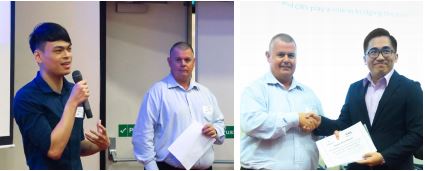 Students presented a "poster entrée" of three minutes, but there could only be one winner. Ben Boyd presents Eric Saw with his winner's certificate and voucher for registration to the 2018 CRS Annual Meeting in New York as first prize
eye out for announcements!