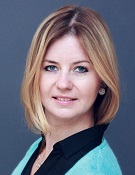 Natalia Vtyurina is currently a postdoctoral researcher in the Netherlands at Groningen Research Institute of Pharmacy (GRIP), University of Groningen. Prior to that, she has been trained at Moscow State University as a physicist (2011) but was always passionate about biology. Therefore, she decided to build up her career in a way she could apply her strong background in physics to explore complexity of biological systems. Under supervision of Dr. Elio Abbondanzieri she successfully graduated as a PhD in biophysics from Bionanoscience department at Delft University of Technology in the Netherlands (2016) where she studied DNA-protein interactions at single-molecule level. This experience prompted her to proceed further towards biomedical research. With the ultimate purpose of discovering how to maximize the delivery efficiency of engineered nano-sized drug carriers, in 2017 she started her postdoctoral research project in the group of Dr. Anna Salvati at Groningen University. Within this project she is building up a live-cell fluorescence imaging platform to characterize internalization and trafficking of nanoparticles by human cells and identify involvement of endocytic proteins in these processes.
She has a passion to become a professional who takes part in the creation of new concepts and ideas that address industrial and societal needs and eventually improve quality of people's lives around the globe. At the moment she is eager to make a transition from academia to biotech and biopharma industry and contribute 10+ years of her multidisciplinary research experience to business at the interface of science. Being social, excellent team player with good coordination, organizational and communication competences she is extremely inspired to contribute it to a dynamic, fast moving and multicultural environment of Young Scientist Committee (YSC). That was a reason for her to join CRS and became an active member of YSC (2018).
In her free time she acts as a member of PostDoc Council at her faculty and responsible for connecting postdocs with the aim of collecting information and issues that they might encounter and later addressing them to policy makers at University Board. She enjoys different sport disciplines and dancing styles as well as leads trainings of "stretching" herself.