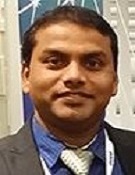 Vivek Agrahari is a Pharmaceutical Development Scientist at CONRAD/EVMS. He received his Ph.D. in Pharmaceutical Sciences from the University of Missouri-Kansas City School of Pharmacy, USA, and M. Pharm. in Medicinal and Pharmaceutical Chemistry from Shri G.S. Institute of Technology and Sciences, Indore, India. His research work was focused on bio-responsive and polymeric nanoformulation development for various indications. Vivek is a member of numerous professional organizations, serving as a reviewer and member of the editorial board of scientific journals, and edited special issues for various journals. He has published several peer-reviewed articles and received numerous research awards. His research has been recognized with the Nicholas A. Peppas Young Student Scientist Travel Award 2015 from the Controlled Release Society (CRS), the 2017 Innovation in Biotechnology Award from the American Association of Pharmaceutical Scientists (AAPS), and several travel awards from the AAPS. He has also received the AAPS-Newsmagazine Student Spotlight Award in 2016.
Vivek has strong interest in translational research and nanotechnology application in therapeutic approaches. He likes to participate in community services and strongly believes his involvement with professional organizations played a significant role in advancing his career goals. In the future, he wants to have the leadership responsibility to guide a team of creative and innovative scientists in developing pharmaceutical products that have a global impact for HIV preventions and treatments including other indications.
Vivek enjoys writing scientific/technical articles, blogs, commentary, etc. He believes that two of the most important attributes for young scientists are curiosity and aspiration to learn new things. In his own time, he loves spending time with family and friends, cooking, and watching biographies.