The current issue of the CRS Newsletter is a member only publication. Archive issues are open access. The newsletter has standing features including: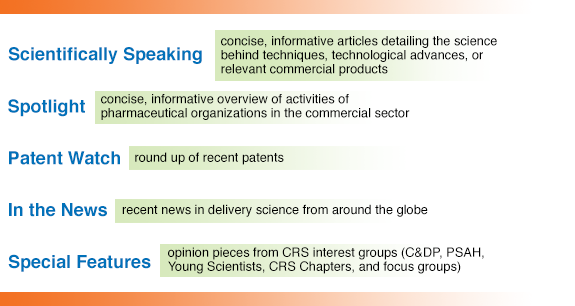 Most Recent Issue: Volume 34 • Number 5

Newsletter Archives
---
Submission deadlines for Volume 34:

Issue 1
January 13, 2017
Issue 2
February 28, 2017
Issue 3
April 28, 2017
Issue 4
June 30, 2017
Issue 5
August 31, 2017
Issue 6
October 31, 2017
If you have something interesting you want to share with the CRS membership, please let us know. The CRS Newsletter editors are always delighted to hear from you. Please contact Arlene McDowell.
Do you have a great image of your science? Submit it now!
The CRS Newsletter Editorial Board is inviting submission of images to be used on the cover for each issue of the CRS Newsletter in 2017.
Requirements 
The image (photo, micrograph, etc.) must be an original, unpublished work that does not violate a third party's intellectual property rights. Images submitted for possible cover use must be no less than 7.375 inches (187 mm) wide × 10 inches (254 mm) deep at 300 dpi at the original image size. Acceptable file formats include tif, eps, and jpg.
Please send electronic copies of your images to the CRS Newsletter through our online dropbox at http://dropbox.yousendit.com/scisoc. Please include your e-mail address, the subject line "CRS Newsletter Cover," and a message that includes a short phrase that describes the image.