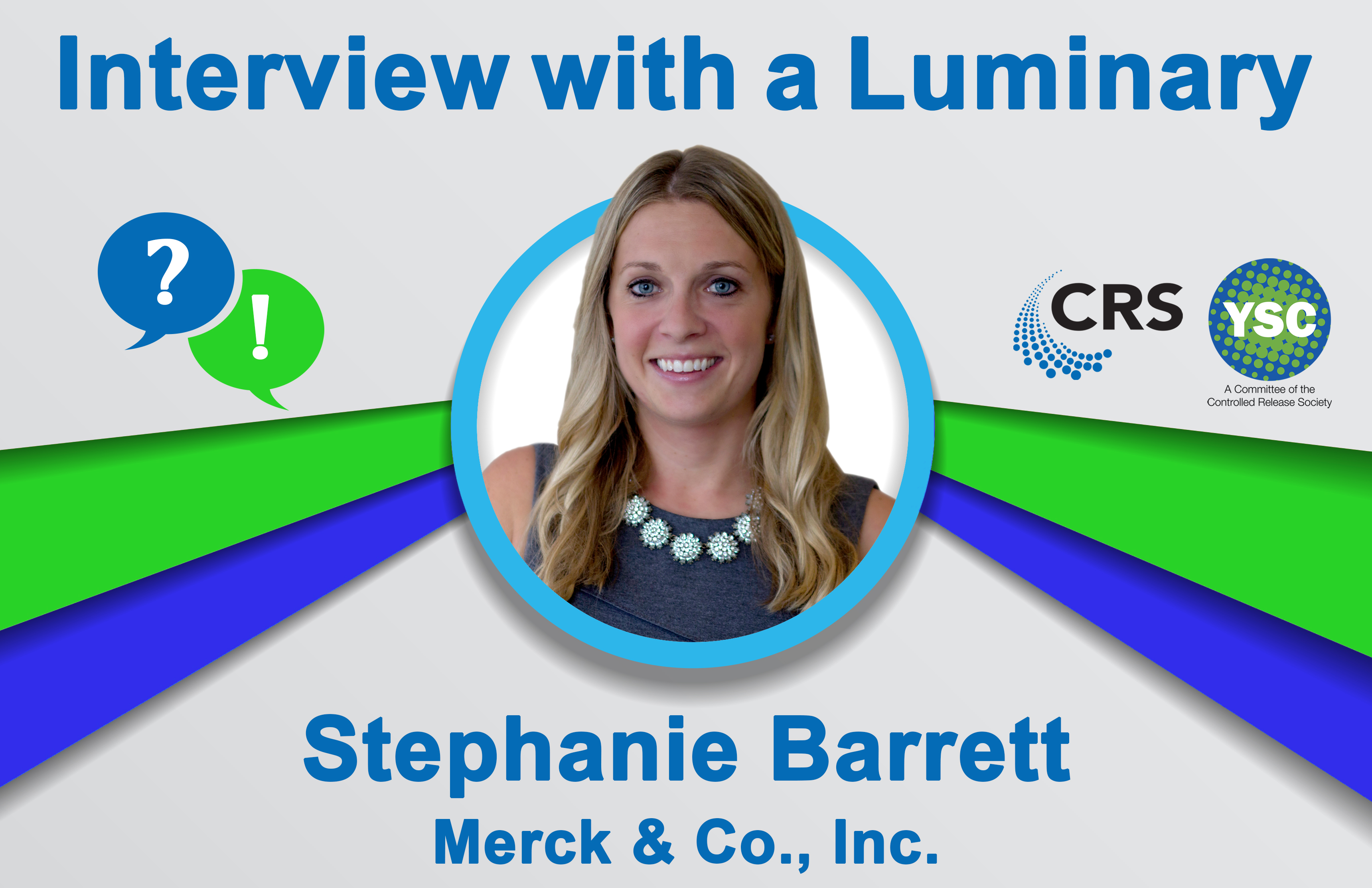 Stephanie E. Barrett, PhD., is a Senior Principal Scientist at Merck & Co., Inc. responsible for Small Molecule Sterile & Specialty Products. She received her B. Sc. from McMaster University (Hamilton, Ontario, Canada) and her Ph.D. in Chemistry from the University of North Carolina at Chapel Hill where she advanced PRINT® technology, a novel method for the fabrication of particles on the order of tens of nanometers to several microns. Stephanie is one of Merck's leading experts in polymer and bioconjugate chemistry for enabled delivery of small molecule and macromolecular drugs, having made influential contributions to the discovery of novel polymer conjugates for siRNA therapeutics, polymer excipients for oral dosage forms, and polymer-based long-acting injectables and implantables. She is currently leading the team responsible for the design of Merck's next generation of long-acting implant and injectable products—with potential applications in Neuroscience, HIV and other infectious diseases. Stephanie has taken on roles of increasing responsibility within Merck and the infectious disease portfolio as the HIV Therapeutic Area Lead and co-lead for the early development clinical team in HIV. In these roles, she leads multiple cross-functional teams responsible for the design of Merck's pipeline of long-acting implant and injectable products through discovery and preclinical development to late-stage development.  For her technical and leadership achievements, Stephanie was recognized by Business Insider as one of the top 30 under 40 biopharma leaders shaping the future of medicine.
In addition to her scientific acumen, track record of valuable program contributions, and external technical credibility, she has also demonstrated a remarkable passion for serving her community, which is exemplified by her numerous contributions to professional organizations.  She is currently the co-lead of the Industry Foresight Council, which is part of the Controlled Release Society and was recently elected to the Board of Directors as the Treasurer of CRS.  Stephanie also serves as the Co-Chair of the Long-Acting Injectables working group, which is part of the International Consortium for Innovation and Quality in Pharmaceutical Development. In this role, she is leading a team aimed at increasing awareness around the development of long-acting injectable products and looking to accelerate additional regulatory guidance to companies that develop these types of formulations and ensure a streamlined development path to accelerate new medicines for patients. Stephanie actively participates in external forums advocating the professional development of women in science.  Outside of Merck, she devotes time to various community organizations, including Yale's Women Leadership Conference, Rutgers (Douglass Residential College, which is specifically for women) and the Pennsylvania Conference for Women.  She also speaks to students of all ages whenever possible about her career journey, her position as a woman in biopharmaceutics, her current research and its expected impact. 
Questions for Luminary
What sparked your interest in science in general and drug delivery in particular?
I have always been interested in science and how we can use it to advance our knowledge and break new ground, particularly in the health sciences. Information is powerful and science helps to build a deeper understanding, which I find exciting! It was easy to focus on drug delivery since there is a clear link to how this can impact every single person around me, which was very inspiring and motivating to me!
Share a turning point or defining moment you experienced in your work as a scientist.
When we began to research the use of a long-acting implant for HIV prevention, we tried to understand the potential impact this could have on the human population.  Hearing stories from people at high risk of acquiring HIV, as well as health care workers in the field really helped to solidify the potential impact this product could have and helped motivate the team to push this innovative product forward. The implant was designed to have a one-year duration, where people at high risk of HIV infection could have the implant inserted sub-dermally and remain there for one year, thereby increasing the adherence to the medication (relative to having to remember to take a pill every day) and decreasing the risk of infection. This program was impactful to me for two big reasons, first was the potential it could have to make a substantial improvement on the lives of those who need it and secondly, implant development is novel, challenging, and therefore fun! There was so much to learn when it came to understanding the release of the drug from the polymer matrix, how to adequately control the release, and how to robustly develop and commercialize an implant formulation (and combination product). Having a good understanding of the potential this product could have helped motivate me every single day, thinking of the individual stories we heard made it easy to get out of bed and keep pushing forward. 
Tell us about the exciting ways in which your particular field is progressing.
There is a lot of research focused on the use of long-acting injectables or implantables as formulation opportunities to improve patient adherence. These formulation and drug delivery opportunities act to simplify drug regimens for patients, with the goal of improved patient outcomes. Some of the research I follow closely in the implant field is the work of Rahima Benhabbour on ultra-long-acting removable drug delivery systems (Ultra-long-acting removable drug delivery system for HIV treatment and prevention | Nature Communications), as well as the Grattoni lab (Advanced implantable drug delivery technologies: transforming the clinical landscape of therapeutics for chronic diseases). I have also been impressed by the microneedle systems from the Donnelly lab (Microneedle array systems for long-acting drug delivery - ScienceDirect).
What is the best piece of professional advice you have received and from whom?
I have had a lot of amazing mentors throughout my career. The best advice I have ever received that I carry with me to this day is to think of your career like a highway, sometimes you are in the passing lane and accelerating through the opportunities that you are progressing, and other times you are in the slow lane (the lane on the far right), pushing things forward but at a more sustainable rate. Depending on all the factors that are happening in your life (and every one of us has challenges that we deal with both at work and personally), you can move from one lane to the other and should move back and forth throughout your career. It really empowers a positive work-life balance and reduces burnout by saying it's okay not to be accelerating all the time (it's a marathon, not a race!). 
Would you change anything about your career path if you could start over?
No.  I honestly believe that every decision you make throughout your career and every experience you gain is data for your brain and is powerful information. It can tell you if you do or don't enjoy that experience and informs you on your next move. 
What advice would you give to someone who is starting their scientific career?
I think a lot of people put pressure on themselves to make the right decision the first time (I know I did).  I strongly believe that people can be interested in many things and choosing one, diving into it and getting the data for our brains to inform on the next step is so powerful. It could be that you love what you are doing, and you stay longer to further strengthen your depth in that area, or that the knowledge you gained there can be leveraged in your next role, which could be tangential to where you are now. Whether you love it or not, that information is so important. Also, it's never too late to change what you are doing, you should love what you do, or change it!
What do you enjoy doing outside of the lab? What are your hobbies/interests?
I love spending time with my family, and especially traveling. My kids (8 and 10 years old) have been learning about National Parks at school and want to see them all!  My husband and I recently took them to Shenandoah National Park and we all had a blast!  It was also the first vacation we brought the dog on, and we were all excited about that too!
I also really enjoy running, I usually put on a podcast and bring the dog and have some me-time while running through the neighbourhood.