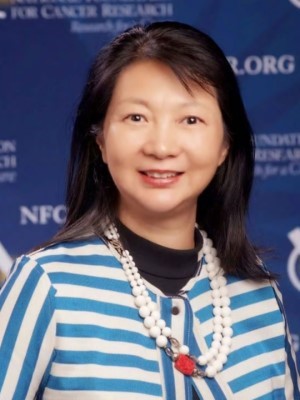 Dr. Ba has served continuously for thirteen years as co-Chair of the Prize Selection Committee of the Szent-Györgyi Prize for Progress in Cancer Research hosted by the National Foundation for Cancer Research. The Selection Committee is comprised of academic leaders and pharmaceutical industry executives, and the annual Prize has become one of the premier cancer research awards in the world.
She is also the former President of the Chinese Biopharmaceutical Association and serves on the International Consulting Committee of the China National Research Center for Translational Medicine (Shanghai).  She also sits on the Scientific Advisory Boards of Medelis, Inc. (Fountain Hills, Arizona) and Immunicom Inc. (San Diego).
Dr. Ba is a member of the Editorial Board of the Chinese Journal of Cancer and formerly served on the Membership Committee of the International Union against Cancer (Geneva) and the Activity Steering Committee of the Cosmos Club (Washington, DC). She also belongs to BayHelix, an invitation-only organization of leaders of Chinese origin involved globally in life sciences and health.
She was recognized in 2017 by the Chinese Medical Doctor Association for her outstanding contributions to international cooperation and was named one of the "Top 300 Women Leaders in Global Health" in 2015 by the Graduate Institute of International and Development Studies' Global Health Programme. She was awarded the 2014 Public Service Award from the Chinese Biopharmaceutical Association-USA and was selected to give the CRS Women in Sciences Lecture in 2011.
Dr. Ba received her B.S. in radiochemistry from Peking University and her Ph.D. in chemistry from the University of Pennsylvania.