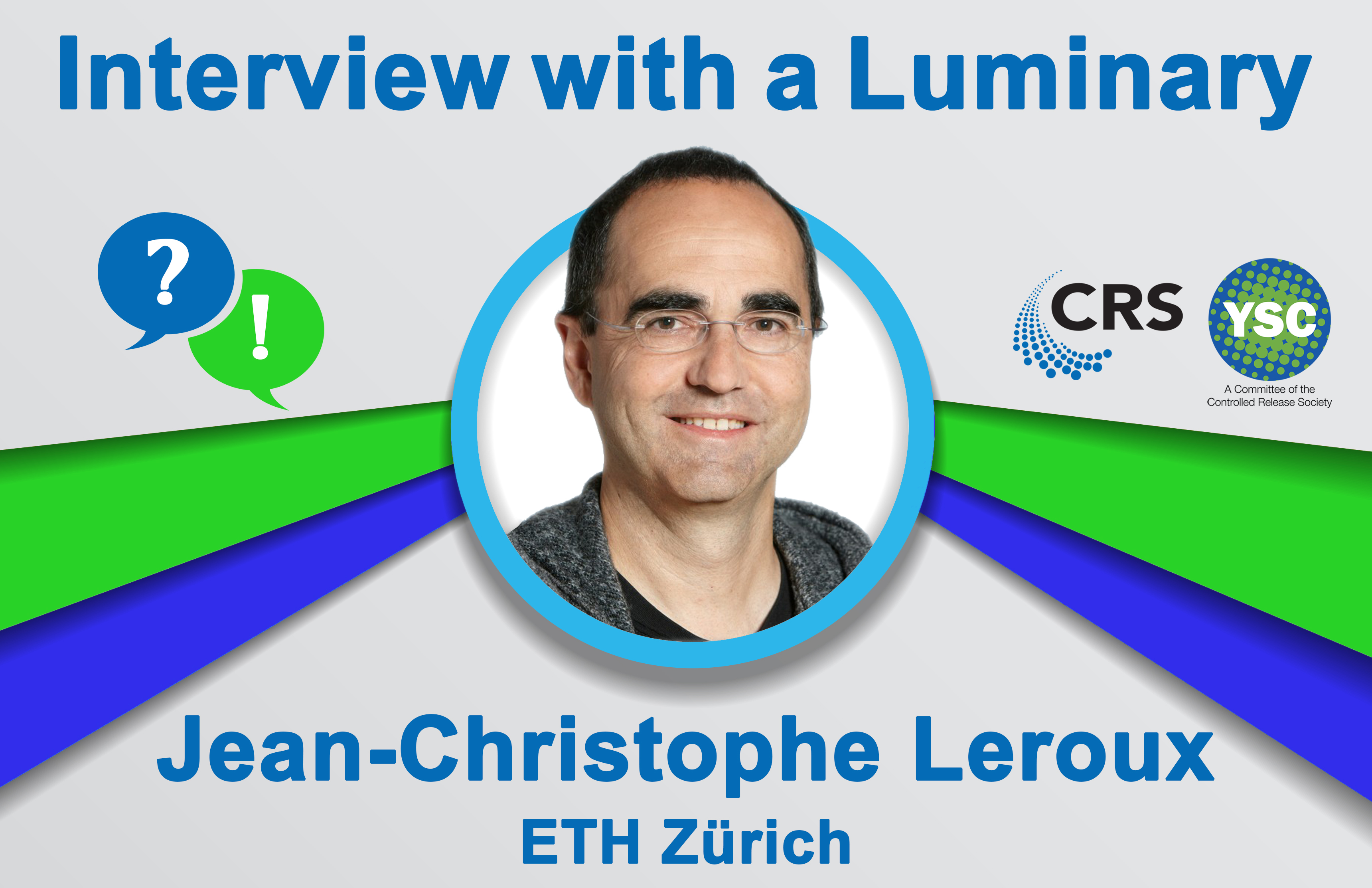 Jean-Christophe Leroux is full professor of Drug Formulation and Delivery and head of the Institute of Pharmaceutical Sciences at ETH Zurich, Switzerland. He was trained as pharmacist at the University of Montreal (Canada), obtained his Ph.D. in Pharmaceutical Sciences from the University of Geneva (Switzerland) and worked as postdoctoral fellow at UCSF (USA). Dr. Leroux was professor of Pharmaceutical Technology at the University of Montreal from 1997 to 2008. He has made important fundamental and applied contributions to the fields of biomaterials and drug delivery, and has also been involved in the development of innovative bio-detoxification systems. He is a fellow of the AAPS, EURASC and CRS, and the co-founder of Versantis AG and Inositec AG, two ETH spin-off pharmaceutical companies.
Questions for Luminary
What sparked your interest in science in general and drug delivery in particular?
It is the autobiography from the 1965 Nobel Prize Winner in Medicine or Physiology, François Jacob, entitled "The Statue Within". He was both an amazing scientist and fascinating human being. I had the opportunity to briefly meet him after my graduation. I decided to pursue a career in drug delivery, because I enjoy very much the applied aspects of this research field, and the possibility to improve the quality of life of patients.
Share a turning point or defining moment you experienced in your work as a scientist.
A turning point was, definitely, when one of the discoveries stemming from my lab entered for the first time into clinical trials after many years of research. This is both exciting and scary because you hope that there will not be any serious side-effects.
Tell us about the exciting ways in which your particular field is progressing.
With connected devices, large amount of data on health are generated today with an unprecedented speed. There is here an opportunity for drug delivery scientists to come up with revolutionary new concepts.
What is the best piece of professional advice you have received and from whom?
I do not know if it was the best piece of professional advice but my PhD co-supervisor, Prof. Eric Doelker often said that it was important to care about details. I tend to agree with this.
Would you change anything about your career path if you could start over?
Yes, earlier in my career, I should have worked on more challenging projects with potential long-term impact instead of picking the low-hanging fruits.
What advice would you give to someone who is starting their scientific career?
Select mindful research hypotheses and do not be afraid to challenge dogmas.
What do you enjoy doing outside of the lab? What are your hobbies/interests?
Dreaming, reading, walking and spending time with my family.