By Vicki Ronaldson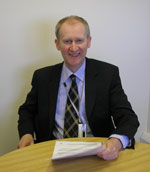 This month, we talk colon-targeted delivery with established Scotland-based contract research organisation Encap Drug Delivery.
Dr. Stephen Brown, CEO of Encap, explains how over 20 years of research and development, along with world-leading expertise in liquid-filled hard capsule delivery systems, has led to the commercial launch of ENCODE, a colon delivery technology platform for pharmaceutical development.
Q         Thanks for taking the time to talk to us, Stephen. Encap is a commercial manufacturing and development company; how did colon targeting emerge as an area of expertise with the potential for commercialisation?
A         Since its founding over 23 years ago, Encap has focused on liquid and hot melt filled hard capsules and has built up the knowledge, expertise, and technologies to develop formulations with virtually any release profile (immediate, delayed, sustained, pulsed, and controlled). The other area of specialist technology where the company has been pioneering is in hard capsule sealing (banding) and capsule coating, being one of only a few companies worldwide that can seal (band) and coat both gelatine and hydroxypropyl methylcellulose (HPMC) capsules. Due to the nature of the products that we fill (liquids), Encap has gained unparalleled experience over the years in leak-free capsule sealing. The combination of internal capsule formulation with or without capsule coating allows us to very effectively target drugs to the colon.
Q         Briefly, what is ENCODE and what was the rationale behind it?
A         ENCODE stands for Encap Colonic Delivery and is the bringing together of a suite of complementary or alternative technologies that can be selected and used to target a drug to the colon for local effect or systemic absorption.
Targeting to the colon can be achieved by a variety of formulation strategies, and many have been attempted over the years. The optimal strategy will depend on the specific drug product. The most widely used approaches fall into three categories:
timed release, whereby the dosage form is constructed in such a way that the active pharmaceutical ingredient (API) is released a specific time after ingestion by manipulating the internal capsule fill formulation and/or through the use of an erodible capsule coating;
pH-controlled release; these systems rely on the increase in pH on going from the stomach to the small intestine and employ the use of polymers that have an appropriate pH/solubility profile, that is, they are insoluble at the lower pHs in the stomach and upper small intestine and soluble at the higher pH found in the distal small intestine;
enzymatic release; these are broadly starch-based coatings that are resistant to digestion in the stomach and small intestine but are degraded by microbial (normal gut flora) enzymes once the dosage form reaches the colon.
In the last few years, another novel (patented) technology has been developed by the School of Pharmacy, London (now University College London). The formulation, known as Phloral™, is designed to work through a combination of pH and enzymatic release. Encap has worked with the inventors in the application of the technology to hard and soft gel capsules. Encap has experience with all of the colon-targeting strategies identified above, and for any particular drug we can develop the most appropriate ENCODE product, based on the product characteristics and targeting requirements. ENCODE formulations have been used for a number of development projects over the last few years and have been progressed into preclinical and clinical studies.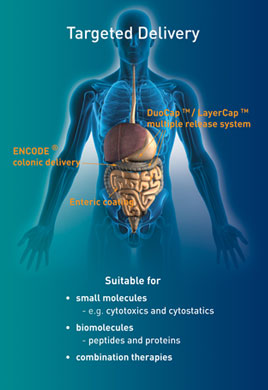 Q         What advantages does targeting drug release in the colon have?
A         There is definitely an increasing interest in colonic targeting of drugs. For the treatment of diseases or conditions associated with the colon (e.g., cancer, inflammatory bowel disease, ulcerative colitis, and infections such as Clostridium difficile), there is often a good case for delivery of the API directly to the colon. Despite the lower epithelial surface area in the colon compared with the small intestine, there are a number of drugs, such as simvastatin, that are in fact better absorbed in the colon due to the reduced presence of proteolytic enzymes and reduced P-glycoprotein efflux. We are also seeing an increasing interest in the delivery of small molecules, peptides, and antibodies targeted to surface receptors in the colonic mucosa.
Q         The relatively low volumes of fluid present in the colon could make disintegration and dissolution of the dosage form a challenge. How does ENCODE address that?
A         The fluid level in the colon is an interesting point and one of the reasons that Encap became interested in colonic delivery. In normal individuals, the level of fluid available for conventional dosage form (tablet and dry powder-filled capsules) disintegration and dissolution is limited, with some reports of free water levels to be no more than a few tens of milliliters. Encap believes that there could be an advantage if we can deliver the drug to the colon in liquid form, via a liquid-filled hard capsule.
Q         How was the colon-targeting nature of the formulations proved clinically?
A         ENCODE can be used to provide a customised product for each active, depending on the required product attributes. As mentioned previously, this will be dependent on the internal formulation and the coating, if used. In general terms, the pH polymer systems are widely used on commercial products, and so their behaviour is well documented in the literature. Timed release systems are also fairly well understood, and they can be useful for certain products despite the drawback of variability in gut transit time (inter- and intrasubject, plus food effects). The Phloral™ technology developed by UCL's School of Pharmacy has been well characterised in vivo using gamma scintigraphy to confirm the site of delivery within the gastrointestinal (GI) tract.
Q         What were the major manufacturing challenges? What scale can products using the ENCODE technology be produced at?
A         The development of the internal capsule formulations is relatively straightforward, as we have many years' experience with hundreds of different molecules. The most difficult challenge has been the development and scale-up of the pH polymer and the starch-based coatings. Although we have had experience with hard gelatine capsule enteric coating for many years, we have had to spend a significant amount of time optimising the process for both gelatine and HPMC capsules to allow GMP manufacture at bench scale using a fluid bed coater, and transferring to a drum coater for larger GMP scale (up to 12 kg). We now feel confident that we have the process under control and will be scaling up to larger-scale drum coaters capable of handling 100 kg in the next 12–18 months.
Q         How long was the development process from inception to market launch of the technology?
A         This is a difficult question, and I guess I would have to say 23 years! It has taken that long to ensure that we have the appropriate level of knowledge and expertise in formulating liquid-filled capsules to provide products with the desired release profile and a manufacturing process that is scalable and sufficiently stable for commercial manufacture. We have been involved in capsule coating for the last 10–15 years, and it is a combination of these technologies that has allowed us to successfully offer ENCODE to our clients.
Q         What does it mean commercially to the company to have this technology?
A         Encap has established itself as a world leader in the field of liquid and hot melt filled hard capsules but has always been innovative and open to the idea of new technologies that are enabling because they can help us solve real problems and difficulties in the delivery of drugs to the GI tract. The ENCODE technology fits perfectly with our core area of expertise and will be a major revenue stream for Encap in the coming years.
Q         How did you find funding for R&D in the current climate, and how do you maintain your R&D pipeline while continuing service provision?
A         Encap is in the fortunate position of being a privately held and profitable organization, and the senior management team from the chairman down is totally committed to spending a significant proportion of earnings on building the business through capital investment and development of new technologies. We have also had ongoing support from Scottish Enterprise and more recently from the Technology Strategy Board.
Q         What do you think are the next big challenges in targeted release?
A         I think that the next significant challenge that can be addressed will be the systemic delivery of peptides and proteins, that is, enabling technologies that increase the permeability or transport of these biomolecules across the gastrointestinal epithelia. It is clear that any enabling technology in this area will require site-specific delivery. Encap, through ENCODE, has a suite of technologies that can very effectively deliver to specific areas within the GI tract, including the colon, and the combination of this with enabling technologies will allow the development of oral medicines previously not considered possible.
Related Publication
Ibekwe, VC, Khela, MK, Evans, DF, Basit, AW. A new concept in colonic drug targeting: A combined pH-responsive and bacterially-triggered drug delivery technology. Aliment. Pharmacol. Ther. 28: 911-916 (2008).
For further information on ENCODE and its applications, visit www.encapdrugdelivery.com
© 2012