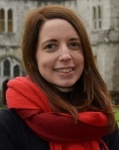 Current position:PhD Student in Pharmaceutics at University College Cork (UCC) in Ireland
Research background: Carol McCarthy obtained her BPharm degree from UCC and completed a Masters in Pharmacy at the Royal College of Surgeons in Ireland. .
Research interest and future aspirations: Her research is focused on improving solubility of BCS Class II drugs, specifically using mesoporous silica carriers. Carol is interested in studying adsorption/desorption of drugs and other organic molecules on the silica surface and in the development of improved in vitro/invivo models to assist in formulation development.
Describe one interesting point about you: She is passionate about science communication and enjoys participating in outreach events with school children and the public. Outside of science, she loves spending time in the great outdoors, running, travelling and going to see live music.