Recipient
Tram Dang and advisor, Ali Khademhosseini, Brigham and Women's Hospital, Harvard Medical School.
Fellowship
Tram Dang's work at MIT led to this postdoctoral fellowship in which she is involved in research at the interface of engineering and immunology.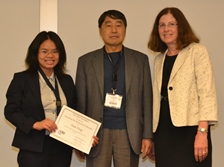 Tram Dang (pictured far left) receiving her fellowship from Prof. Sung Wan Kim, and Foundation Chair, Susan Cady at the 2012 CRS Annual Meeting & Exposition.

 Fellowship Year Reflection
Background
Dr. Dang works in collaboration with teams from Tufts and Purdue universitites. Her role focuses on the development of an intelligent anti-imflammoatory drug delivery approach for integration into a smart wound-dressing platform embedeed with microelectronics and an array of physical, chemical, and biological module capable of sensing and active intervention in the wound environment.
"The Sung Wan Kim Postdoctoral Fellowship has given me the wonderful opportunity to freely explore different aspects of a new field of study."
Honoring Sung Wan Kim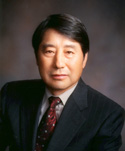 This fellowship honors Professor Sung Wan Kim, Distinguished Professor of Pharmaceutics and Pharmaceutical Chemistry, Distinguished Professor of Bioengineering, at University of Utah for his exemplary service to CRS and delivery science.
As a pioneer in drug delivery research, Professor Kim has focused on hydrogels, biodegradable drug conjugates, self-regulating drug delivery, and stimuli sensitive polymers. A recent article in the Journal of Controlled Release chronicles his career from biomaterials to gene delivery.  He has worked extensively in medical polymers, especially blood compatible polymers. His recent research includes design of novel polymers for the delivery of protein drugs, cells and genes. Professor Kim is highly recognized throughout the field with honors from the Controlled Release Society (College of Fellows and Founders Award) as well as the Rosenblatt Prize, AACP Volwiler Award, AAPS Dale Wurster Award, the Clemson Basic Biomaterials Award, AAPS Research Achievement in Drug Delivery, and many more. He founded the International Symposium on Recent Advances in Drug Delivery at University of Utah, serves as a member of the NIH Study Section, and is on the Editorial Boards of several research journals. Professor Kim is also an elected member of U.S. National Academies: Institute of Medicine and National Academy of Engineering.