Nicholas A. Peppas has been an icon in the field of controlled release through his innovative research, leadership of the Controlled Release Society, and exceptional support of students. One of his many legacies is the formation of local CRS chapters to enhance globalization and student development. CRS honored Nicholas Peppas via funding student travel awards so promising young scientists could attend the 2015 CRS annual meeting.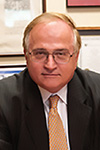 Nicholas A. Peppas is the Fletcher Pratt Chaired Professor of Chemical Engineering, Biomedical Engineering and Pharmacy at the University of Texas at Austin. He is a world leader in biomaterials, controlled drug delivery, biomaterials and bionanotechnology. He is a CRS past president and supporter of students. Thanks to donations the following students received travel grants to attend the 2015 CRS Annual Meeting & Exposition in Edinburgh, Scotland.
2015 Student Travel Grant Recipients
The following students received the Nicholas A. Peppas Student Travel Grant to attend the 2015 CRS Annual Meeting in Edinburgh, Scotland.
Vivek Agrahari, University of Missouri, Kansas City, U.S.A.
Jaclyn Obermeyer, University of Toronto, Canada
Ryan Pearson, University of Michigan, U.S.A.
Mary Tang, University of Illinois, U.S.A.
Jennifer Wong, University of Sydney, Australia
Mimi Yang, University of Auckland, New Zealand